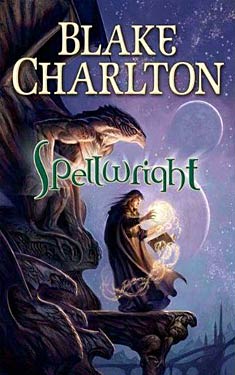 Synopsis
Nicodemus is a young, gifted wizard with a problem. Magic in his world requires the caster to create spells by writing out the text . . . but he has always been dyslexic, and thus has trouble casting even the simplest of spells. And his misspells could prove dangerous, even deadly, should he make a mistake in an important incantation.
Yet he has always felt that he is destined to be something more than a failed wizard. When a powerful, ancient evil begins a campaign of murder and disruption, Nicodemus starts to have disturbing dreams that lead him to believe that his misspelling could be the result of a curse. But before he can discover the truth about himself, he is attacked by an evil which has already claimed the lives of fellow wizards and has cast suspicion on his mentor. He must flee for his own life if he's to find the true villain.
But more is at stake than his abilities. For the evil that has awakened is a power so dread and vast that if unleashed it will destroy Nicodemus... and the world.
Excerpt
Chapter One
Nicodemus waited for the library to empty before he suggested committing a crime punishable by expulsion.
"If I edit you, we can both be asleep in an hour," he said to his text in what he hoped was a casual tone.
At twenty-five, Nicodemus Weal was young for a spellwright, old for an apprentice. He stood an inch over six feet and never slouched. His long hair shone jet black, his complexion dark olive—two colors that made his green eyes seem greener.
The text to whom he was speaking was a common library gargoyle. She was a construct, an animated being composed of magical language. And as Starhaven constructs went, she was a very plain spell.
More advanced gargoyles were animalistic mishmashes: the head of a snake on the body of a pig, limbs profuse with talons and tentacles or fangs and feathers. That sort of thing.
But the gargoyle squatting on the table before Nicodemus took the shape of only one animal: an adult snow monkey. Her slender stone torso and limbs were covered with stylized carvings representing fur. Her bare face presented heavy cheeks and weary eyes.
Her author had given her only one augmentation: a short tail from which protruded three hooked paragraphs of silvery prose. As Nicodemus watched the spell, she picked up three books and, using their clasps, hung them on her tail paragraphs.
"You edit me? Not likely," she retorted and then slowly climbed onto a bookshelf. "Besides, I was written so that I can't fall asleep until daylight."
"But you have better things to do than reshelve books all night," Nicodemus countered, smoothing out his black apprentice's robes.
"I might," the spell admitted, now climbing laterally along the shelf.
Nicodemus cradled a large codex in his left arm. "And you've let apprentices edit you before."
"Rarely," she grunted, climbing up two shelves. "And certainly never a cacographer." She pulled a book from her tail and slipped it onto the shelf. "You are a cacographer, aren't you? You misspell magical texts simply by touching them?" She looked back at him with narrowed stone eyes.
Nicodemus had anticipated such a question; still, it felt like a kick in the stomach. "I am," he said flatly.
The gargoyle climbed another shelf. "Then it's against library rules: constructs aren't to let cacographers touch them. Besides, the wizards might expel you for editing me."
Nicodemus took a slow breath.
To either side of them stretched rows of bookshelves and scrollracks. They were on the tenth and top floor of the library known as the Stacks—a square building that housed many of Starhaven's manuscripts.
Presently the building was empty save for Nicodemus and the gargoyle. Some light came from moonbeams falling on the paper window screens, more from the incandescent flamefly paragraphs flitting about above Nicodemus.
He stepped closer to the gargoyle. "We've been reshelving so long that you've slowed down. So it's only your energetic prose that needs rewriting. I don't have to touch you to do that. All the other apprentices edited their constructs; that's why they and their gargoyles finished hours ago."
"All the other apprentices weren't cacographers," the spell replied, reshelving another book. "Don't cacographers always have to stay this late for Stacks duty?"
Trying not to scowl, Nicodemus laid his books back down on the table. "No, usually we don't need to rejuvenate our gargoyles. It's this damn convocation; the wizards are pulling every manuscript they can think of to impress their guests."
The gargoyle grimaced at their pile of unshelved books. "So that's why we've four times as much work to night."
Nicodemus gave the construct his most haggard look. "It's worse than you know. I've still got an anatomy text to review and two spelling drills to complete before morning class."
The gargoyle laughed. "You want empathy from a primary construct? Ha! You might be a cacographer, but you can still think freely."
Nicodemus closed his eyes and realized that they stung from lack of sleep. Half an hour had already passed since midnight, and he had to wake with the dawn bell.
He looked at the gargoyle. "If you let me rejuvenate your energetic prose to night, I'll find you a modification scroll tomorrow. Then you can change yourself however you like—wings, claws, what ever."
The textual construct began to climb back toward the table. "Wonderful, wings from a cacographer. What good would a scroll written by a retarded—"
"No, you pile of clichéd prose!" Nicodemus snapped. "I didn't say 'write.' I said 'find,' which means 'steal.' "
"Ho ho, the boy has some spirit after all." The gargoyle chuckled. She stopped climbing to look back at him. "Steal a scroll from whom?"
Nicodemus pulled a lock of black hair away from his face. Bribing constructs was an illegal but common practice in Starhaven. He disliked it, but he disliked the idea of another sleepless night even more. "I am Magister Shannon's apprentice," he said.
"Magister Agwu Shannon, the famous linguist?" the gargoyle asked excitedly. "The expert on textual intelligence?"
"The same."
A slow stone smile spread across the gargoyle's face. "Then you're the boy who failed to live up to prophecy? The one they thought was the Halcyon until he turned out to be retarded?"
"Do we have a deal or not?" Nicodemus retorted hotly, his hands clenched.
Still smiling, the gargoyle climbed onto the table. "Are the rumors about Shannon true?"
"I wouldn't know; I don't listen to hearsay," Nicodemus growled. "And if you speak one word against Magister, heaven help me but I'll knock you into sentence fragments."
The gargoyle snickered. "Such a loyal apprentice, considering you're offering to steal one of Shannon's scrolls."
Nicodemus clenched his jaw and reminded himself that, at some point, virtually all apprentices bribed constructs with their mentor's work. "Gargoyle, what do you want?"
She answered instantly: "Two stone more weight, so the medium-weight gargoyles can't push me off my sleeping perch. And quaternary cognition."
Nicodemus resisted the urge to roll his eyes. "Don't be ignorant; most humans can't reach quaternary cognition."
The gargoyle frowned and attached a book to her tail. "Tertiary, then."
Nicodemus shook his head. "With your executive text, we can't do better than secondary cognition."
She crossed her arms. "Tertiary."
"You might as well bargain for the white moon. You're asking for something I can't give."
"And you're asking me to be edited by a cacographer. Aren't cacographers incapable of concentrating long enough to finish a spell?"
"No," he said curtly. "Some of us have that problem, but I don't. The only thing that defines a cacographer is a tendency to misspell a complex text when touching it. And I wouldn't have to touch you."
The stone monkey folded her arms. "But you're asking me to deliberately violate library rules."
This time Nicodemus did roll his eyes. "You can't violate library rules, gargoyle; you've only got primary cognition. Your rules only forbid my touching you. All I need do to night is add more energetic language to your body. I can do that without touching you. I've done this before and the gargoyle didn't lose a single rune."
The spell leaned forward and searched his face with blank stone eyes. "Two stone more weight and secondary cognition."
"Deal," Nicodemus grunted. "Now turn around."
The gargoyle's tail was still attached to a large spellbook. But rather than unfasten it, she stepped on top of the codex and turned to present her back.
Nicodemus's black apprentice robes had slits sewn into the top of the sleeves, near the shoulder. He slipped his arms out of these and looked down at his right elbow.
Magical runes were made not with pen and paper, but within muscle. Nicodemus, like all spellwrights, had been born with the ability to transform his physical strength into runes made of pure magical energy.
By tensing his bicep, he forged several runes within his arm. He could see the silvery language shine through skin and sinew. Tensing his bicep again, he joined the letters into a sentence, which he let spill into his forearm.
With a wrist flick, he cast the simple spell into the air, where it twisted like a tendril of glittering smoke. He extended his arm and cast the sentence onto the nape of the monkey's neck.
The spell contained a disassemble command; therefore, where it touched the construct, she began to shine with a silver glow. Nicodemus wrote a second sentence with his left arm and cast it next to his first. A seam of light ran down to the gargoyle's tail, and the two sides of her back swung open as if on hinges.
A coiling profusion of incandescent prose shone before him.
Different magical languages had different properties, and this gargoyle was made of two: Magnus, a robust silvery language that affected the physical world, and Numinous, an elegant golden language that altered light and other magical text. The gargoyle thought with her Numinous passages, moved with …
Copyright © 2010 by Blake Charlton
Reviews
There are currently no reviews for this novel. Be the first to submit one! You must be logged in to submit a review in the BookTrackr section above.
Images
No alternate cover images currently exist for this novel. Be the first to submit one!