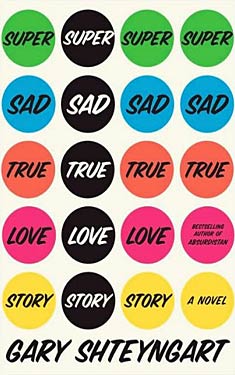 Super Sad True Love Story
Synopsis
The author of two critically acclaimed novels, The Russian Debutante's Handbook and Absurdistan, Gary Shteyngart has risen to the top of the fiction world. Now, in his hilarious and heartfelt new novel, he envisions a deliciously dark tale of America's dysfunctional coming years-and the timeless and tender feelings that just might bring us back from the brink.
In a very near future-oh, let's say next Tuesday-a functionally illiterate America is about to collapse. But don't that tell that to poor Lenny Abramov, the thirty-nine-year-old son of an angry Russian immigrant janitor, proud author of what may well be the world's last diary, and less-proud owner of a bald spot shaped like the great state of Ohio. Despite his job at an outfit called Post-Human Services, which attempts to provide immortality for its super-rich clientele, death is clearly stalking this cholesterol-rich morsel of a man. And why shouldn't it? Lenny's from a different century-he totally loves books (or "printed, bound media artifacts," as they're now known), even though most of his peers find them smelly and annoying. But even more than books, Lenny loves Eunice Park, an impossibly cute and impossibly cruel twenty-four-year-old Korean American woman who just graduated from Elderbird College with a major in Images and a minor in Assertiveness.
After meeting Lenny on an extended Roman holiday, blistering Eunice puts that Assertiveness minor to work, teaching our "ancient dork" effective new ways to brush his teeth and making him buy a cottony nonflammable wardrobe. But America proves less flame-resistant than Lenny's new threads. The country is crushed by a credit crisis, riots break out in New York's Central Park, the city's streets are lined with National Guard tanks on every corner, the dollar is so over, and our patient Chinese creditors may just be ready to foreclose on the whole mess. Undeterred, Lenny vows to love both Eunice and his homeland. He's going to convince his fickle new love that in a time without standards or stability, in a world where single people can determine a dating prospect's "hotness" and "sustainability" with the click of a button, in a society where the privileged may live forever but the unfortunate will die all too soon, there is still value in being a real human being.
Wildly funny, rich, and humane, Super Sad True Love Story is a knockout novel by a young master, a book in which falling in love just may redeem a planet falling apart.
Excerpt
DO NOT GO GENTLE
FROM THE DIARIES OF LENNY ABRAMOV
june 1
Rome–New York
Dearest Diary,
Today I've made a major decision: I am never going to die. Others will die around me. They will be nullified. Nothing of their personality will remain. The light switch will be turned off. Their lives, their entirety, will be marked by glossy marble headstones bearing false summations ("her star shone brightly," "never to be forgotten," "he liked jazz"), and then these too will be lost in a coastal flood or get hacked to pieces by some genetically modified future- turkey.
Don't let them tell you life's a journey. A journey is when you end up somewhere. When I take the number 6 train to see my social worker, that's a journey. When I beg the pilot of this rickety United- ContinentalDeltamerican plane currently trembling its way across the Atlantic to turn around and head straight back to Rome and into Eunice Park's fickle arms, that's a journey.
But wait. There's more, isn't there? There's our legacy. We don't die because our progeny lives on! The ritual passing of the DNA, Mama's corkscrew curls, his granddaddy's lower lip, ah buh- lieve thuh chil'ren ah our future. I'm quoting here from "The Greatest Love of All," by 1980s pop diva Whitney Houston, track nine of her eponymous first LP.
Utter nonsense. The children are our future only in the most narrow, transitive sense. They are our future until they too perish. The song's next line, "Teach them well and let them lead the way," encourages an adult's relinquishing of selfhood in favor of future generations. The phrase "I live for my kids," for example, is tantamount to admitting that one will be dead shortly and that one's life, for all practical purposes, is already over. "I'm gradually dying for my kids" would be more accurate.
But what ah our chil'ren? Lovely and fresh in their youth; blind to mortality; rolling around, Eunice Park–like, in the tall grass with their alabaster legs; fawns, sweet fawns, all of them, gleaming in their dreamy plasticity, at one with the outwardly simple nature of their world.
And then, a brief almost- century later: drooling on some poor Mexican nursemaid in an Arizona hospice.
Nullified. Did you know that each peaceful, natural death at age eighty- one is a tragedy without compare? Every day people, individuals— Americans, if that makes it more urgent for you—fall facedown on the battlefield, never to get up again. Never to exist again.
These are complex personalities, their cerebral cortexes shimmering with floating worlds, universes that would have floored our sheepherding, fig- eating, analog ancestors. These folks are minor deities, vessels of love, life- givers, unsung geniuses, gods of the forge getting up at six- fifteen in the morning to fire up the coffeemaker, mouthing silent prayers that they will live to see the next day and the one after that and then Sarah's graduation and then . . .
Nullified.
But not me, dear diary. Lucky diary. Undeserving diary. From this day forward you will travel on the greatest adventure yet undertaken by a nervous, average man sixty- nine inches in height, 160 pounds in heft, with a slightly dangerous body mass index of 23.9. Why "from this day forward"? Because yesterday I met Eunice Park, and she will sustain me through forever. Take a long look at me, diary. What do you see? A slight man with a gray, sunken battleship of a face, curious wet eyes, a giant gleaming forehead on which a dozen cavemen could have painted something nice, a sickle of a nose perched atop a tiny puckered mouth, and from the back, a growing bald spot whose shape perfectly replicates the great state of Ohio, with its capital city, Columbus, marked by a deep- brown mole. Slight. Slightness is my curse in every sense. A so- so body in a world where only an incredible one will do. A body at the chronological age of thirty- nine already racked with too much LDL cholesterol, too much ACTH hormone, too much of everything that dooms the heart, sunders the liver, explodes all hope. A week ago, before Eunice gave me reason to live, you wouldn't have noticed me, diary. A week ago, I did not exist. A week ago, at a restaurant in Turin, I approached a potential client, a classically attractive High Net Worth Individual. He looked up from his wintry bollito misto, looked right past me, looked back down at the boiled lovemaking of his seven meats and seven vegetable sauces, looked back up, looked right past me again—it is clear that for a member of upper society to even remotely notice me I must first fire a flaming arrow into a dancing moose or be kicked in the testicles by a head of state.
And yet Lenny Abramov, your humble diarist, your small nonentity, will live forever. The technology is almost here. As the Life Lovers Outreach Coordinator (Grade G) of the Post- Human Services division of the Staatling- Wapachung Corporation, I will be the first to partake of it. I just have to be good and I have to believe in myself. I just have to stay off the trans fats and the hooch. I just have to drink plenty of green tea and alkalinized water and submit my genome to the right people. I will need to re- grow my melting liver, replace the entire circulatory system with "smart blood," and find someplace safe and warm (but not too warm) to while away the angry seasons and the holocausts. And when the earth expires, as it surely must, I will leave it for a new earth, greener still but with fewer allergens; and in the flowering of my own intelligence some 1032 years hence, when our universe decides to fold in on itself, my personality will jump through a black hole and surf into a dimension of unthinkable wonders, where the things that sustained me on Earth 1.0—tortelli lucchese, pistachio ice cream, the early works of the Velvet Underground, smooth, tanned skin pulled over the soft Baroque architecture of twentysomething buttocks—will seem as laughable and infantile as building blocks, baby formula, a game of
"Simon says do this."
That's right: I am never going to die, caro diario. Never, never, never, never. And you can go to hell for doubting me.
Copyright © 2010 by Gary Shteyngart
Reviews
There are currently no reviews for this novel. Be the first to submit one! You must be logged in to submit a review in the BookTrackr section above.
Images
No alternate cover images currently exist for this novel.