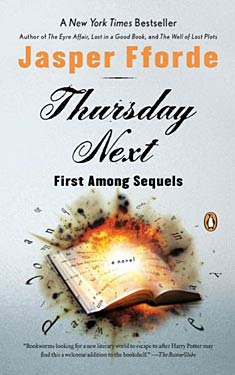 Synopsis
Literary sleuth Thursday Next is out to save literature in the fifth installment of Jasper Fforde's wildly popular series.
Beloved for his prodigious imagination, his satirical gifts, his literate humor, and sheer silliness, Jasper Fforde has delighted book lovers since Thursday Next first appeared in The Eyre Affair, a genre send-up hailed as an instant classic. Since the no-nonsense literary detective from Swindon made her debut, literature has never been quite the same. Neither have nursery rhymes, for that matter. With two successful books of the Nursery Crime series under his belt, Fforde takes up once again the brilliant adventures of his signature creation in the highly anticipated fifth installment of the Thursday Next series. And it's better than ever.
It's been fourteen years since Thursday pegged out at the 1988 SuperHoop, and Friday is now a difficult sixteen year old. However, Thursday's got bigger problems. Sherlock Holmes is killed at the Rheinback Falls and his series is stopped in its tracks. And before this can be corrected, Miss Marple dies suddenly in a car accident, bringing her series to a close as well. When Thursday receives a death threat clearly intended for her written self, she realizes what's going on--there is a serial killer on the loose in the Bookworld. And that's not all--The Goliath Corporation is trying to deregulate book travel. Naturally, Thursday must travel to the outer limits of acceptable narrative possibilities to triumph against increasing odds.
Packed with word play, bizarre and entertaining subplots, and old-fashioned suspense, Thursday's return is sure to be celebrated by Jasper's fanatical fans and the critics who have loved him since the beginning.
Excerpt
No excerpt currently exists for this novel.
Reviews
Images
No alternate cover images currently exist for this novel.