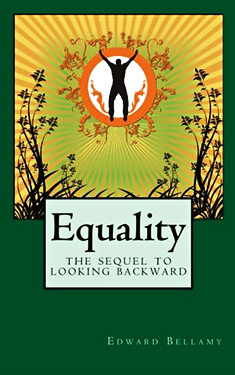 Synopsis
The story takes up immediately after the events of Looking Backward with the main characters from the first novel, Julian West, Doctor Leete, and his daughter Edith.
West tells his nightmare of return to the 19th century to Edith, who is sympathetic. West's citizenship in the new America is recognized, and he goes to the bank to obtain his own account, or "credit card," from which he can draw his equal share of the national product. He learns that Edith and her mother do not normally wear the long skirts he has seen them in (they had been wearing them so as not to offend his 19th century sensibilities): when Julian tells Edith that he would not be shocked to see them dressed in the modern fashion, Edith immediately runs into the house and comes out dressed in a pants suit. Clothing has revolutionised and is now made of strengthened paper, recycled when dirty, and replaced at very little cost (shoes and dishes are made of variations on the same substance).
Julian learns that women are free to compete in many of the same trades as men; the manager of the paper factory he visits with Edith is a woman. Edith herself is in the second year of the three year general labor period required of everyone before choosing a trade, but has taken leave to spend time with Julian. The two tour a tenement house, in which no one now lives, kept as a reminder of the evils of private capitalism.
Julian opens his safe (a device unknown in 2000 outside museums). Dr. Leete sees his mortgages and securities not as long-obsolete claims to ownership interest in things, but rather in people and their labor. The papers are worthless except as antiques, as most papers of the sort were burned at the conclusion of the economic transition, in a great blaze on the former site of the New York Stock Exchange. The gold coins in the safe are admired for their prettiness, but are also worthless.
Julian learns more about the world of the year 2000. Handwriting has been virtually replaced by phonograph records, and jewelry is no longer used, since jewels are now worthless. Julian is amazed by a television-like device, called the electroscope. World communication is simplified, since everyone now speaks a universal language in addition to their native tongue. Not only are there motor cars, but also private air cars. Everyone is now vegetarian, and the thought of eating meat is looked upon with revulsion.
The book concludes with an almost uninterrupted series of lectures from Dr. Leete and other characters, mostly concerning how the idyllic state in which West has arrived was achieved.
Excerpt
"Looking Backward" was a small book, and I was not able to get into it all I wished to say on the subject. Since it was published what was left out of it has loomed up as so much more important than what it contained that I have been constrained to write another book. I have taken the date of "Looking Backward," the year 2000, as that of Equality, and have utilized the framework of the former story as a starting point for this which I now offer. In order that those who have not read "Looking Backward" may be at no disadvantage, an outline of the essential features of that story is subjoined.
Copyright © 1897 by Edward Bellamy
Reviews
There are currently no reviews for this novel. Be the first to submit one! You must be logged in to submit a review in the BookTrackr section above.
Images
No alternate cover images currently exist for this novel.