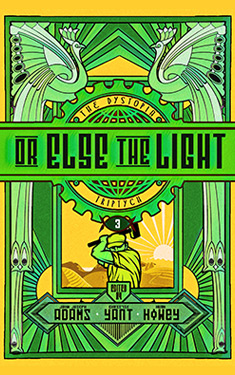 Synopsis
Into the darkness within; or else the light...
When Margaret Atwood wrote these words, she left open the possibility that even our darkest tales may harbor a glimmer of hope. In OR ELSE THE LIGHT, the third and final entry of THE DYSTOPIA TRIPTYCH, over a dozen of the best minds in science fiction conclude their stories with a descent into darkness, or perhaps a ray of light.
Edited by John Joseph Adams, Christie Yant, and Hugh Howey, THE DYSTOPIA TRIPTYCH is a series of three anthologies of dystopian fiction. IGNORANCE IS STRENGTH--before the dystopia--focuses on society during its descent into absurdity and madness. BURN THE ASHES--during the dystopia--turns its attention to life during the strangest, most dire times. OR ELSE THE LIGHT--after the dystopia--concludes the saga with each author sharing their own vision of how we as a society might crawl back from the precipice of despair.
OR ELSE THE LIGHT features all-new, never-before-published works by Hugh Howey, Seanan McGuire, Carrie Vaughn, Scott Sigler, Cadwell Turnbull, Karin Lowachee, Caroline M. Yoachim, Adam-Troy Castro, An Owomoyela, Tobias S. Buckell, Tim Pratt, Rich Larson, Alex Irvine, Darcie Little Badger, Violet Allen, Merc Fenn Wolfmoor, and Dominica Phetteplace.
Excerpt
INTRODUCTION
UTOPIAS do not exist. While this may upset some, the warning is right there in the name: Utopia comes from the Greek words ou (not) and topos (place).
Not place.
Nowhere.
A fictional land.
From Plato's Republic to the Bible's Garden of Eden to Thomas More's Utopia, the dream of an ideal world has long captivated us as a dream that might become reality. We want to imagine a place free of strife. A heaven on Earth. But these were just mental constructs. They were never meant to be built... were they?
This last century has seen the theoretical transform into a real yearning. From Le Guin's The Dispossessed to Arthur C. Clarke's Childhood's End, the idea of actual utopia had gradually taken hold. It is seen today in political movements where healthcare and a living wage are seen as human rights, where education is affordable and widespread, and where human freedom is available not only for a select few. It is seen in our reaction to income inequality and experimentation with universal basic income. It is evident in our cries for environmental protections. It is seen as millions take to the streets to demand justice for all people. We no longer meekly accept what's wrong in the world; we imagine that these problems can truly be solved.
There are reasons for hope. Much of our angst comes from comparison. We see the places in the world where things are improved, where society is civil and opportunities abound. Often, these comparisons are from one side of the street to the other, or across an imaginary line on some map. The future is arriving, just not everywhere and at the same time for all people.
Progress brings as much frustration as celebration. When utopia is but a dream, we know that we will soon wake up. But once the foundations of a utopia have been laid, we begin to pester the architects to get a move on. We have seen progress. The ground has been broken. Now we want it all. Everyone deserves access to this same dream.
The stories collected in this series come from a generation of writers who have watched the world solve intractable problems; they know what can be done. Their sights are now set to an even more enviable future. What follows are stories crying out for more progress. A raising of the foundations. A lowering of the walls.
Utopias do not exist. The warning was right there in the name.
But there is more story to be told.
THE EDITORS
In a Place
of Cautious Optimism
Copyright © 2020 by John Joseph Adams
Copyright © 2020 by Christie Yant
Copyright © 2020 by Hugh Howey
Reviews
There are currently no reviews for this novel. Be the first to submit one! You must be logged in to submit a review in the BookTrackr section above.
Images
No alternate cover images currently exist for this novel. Be the first to submit one!