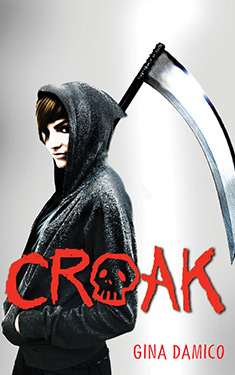 Synopsis
Fed up with her wild behavior, sixteen-year-old Lex's parents ship her off to upstate New York to live with her Uncle Mort for the summer, hoping that a few months of dirty farm work will whip her back into shape.
But Uncle Mort's true occupation is much dirtier than shoveling manure. He's a Grim Reaper. And he's going to teach Lex the family business.
She quickly assimilates into the peculiar world of Croak, a town populated by reapers who deliver souls from this life to the next. But Lex can't stop her desire for justice -- or is it vengeance? -- whenever she encounters a murder victim, craving to stop the attackers before they can strike again.
Will she ditch Croak and go rogue with her reaper skills?
Excerpt
4
"I gotta be honest, Lex," Uncle Mort said as they continued down the hill into town, slowing the bike so they could speak without yelling. "You look just about ready to soil yourself."
Lex shot him a glare, then eyed a sign at the side of the road that read Croak! Population: 78. The number clicked over to 80 as they passed.
She scrunched up her nose. "That was weird."
"But accurate."
Lex gazed at the handful of small buildings as they passed by. "I don't get it. Where's the town?" she asked, searching into the distance.
"You're in it."
"This is it?"
"It is small," Uncle Mort agreed. "But it's got heart."
Lex assumed he meant this literally as well as figuratively, since both sides of the street were lined with blooms of brilliantly red bleeding-heart flowers. As she gawked at the short buildings, she got the eeriest feeling that she had stumbled into a historical theme park. The storefronts just seemed so old-fashioned, like they were part of some bygone era of yore, or maybe even yesteryear. She had only ever seen places like this on the evening news during election years, when politicians invaded to kiss babies and purchase homemade pies from smiling, toothless bakery owners.
"Please tell me you have running water," she said.
"Of course. Tuesdays and Thursdays."
She couldn't tell if he was being sarcastic.
"Don't worry," he said. "Croak's a pretty modern place. Up there are the Pine Condos, where some of the younger people live, and a few good shops on the right down Slain Lane." He pointed to a side street paved with cobblestones, unlike the smooth pavement of the one they were on. Lex craned her neck and spotted a handful of oddly named stores: a flower shop called Pushing Daisies, a mattress place labeled The Big Sleep, and a grocery store with a giant sign reading Bought the Farm.
At the junction of the two roads, a gravestonelike obelisk rose out of a small fountain. Uncle Mort nodded to the left. "Best diner in the universe right there. Hello, Dora!" he called to the ancient woman sweeping the sidewalk outside. She waved cheerily.
"And the library's up on the left--oh, but check this out, our pride and joy," he said with reverence, looking straight ahead. At a fork in the road stood the tallest building in town, clocking in at a whopping two stories. The Victorian house was painted a sunny yellow, with friendly letters spelling out the word Bank across the façade. The wooden front porch contained a hammock, a small table, and, naturally, a pitcher of lemonade. "We take our investments very seriously."
Lex struggled to take it all in. She had never seen a bank that looked as though it could double as a summer home. Nor could she conceive of a place that didn't seem to have a single traffic light. And the quaint, nostalgic street sign labeled Dead End rather than Main Street only confirmed her suspicions that the town had surely lost its quaint, nostalgic marbles.
Then, just like that, it was behind them.
The bike veered onto the fork to the left of the Bank and passed a large field on the right. Across that, a dozen or so houses stretched down the other fork, looking like any other suburb in America.
Lex squirmed in her seat. "Are you kidding me? That was not a town," she said. "I mean, where's the Starbucks?"
Uncle Mort sighed. "Lex, I know you're from New York, so I'm going to forgive you for that. But let me tell you something right now, something that I don't want you ever to forget: Starbucks is an abomination."
Lex was speechless, for she now believed there was no way in a million years this man could possibly be a blood relative.
"And here are my digs," he said as the bike slowed. "What do you think?"
Lex no longer knew what to think. The house was practically a larger version of Uncle Mort himself--loud, schizophrenic, and potentially fatal. Speckled with all manner of colors in no apparent pattern, it looked as if it had rolled around the countryside picking up random items and whatnots before finally coming to a halt at the top of its grassy hill.
Lex ogled the bizarre devices poking out of each window as the bike rolled to a stop. She took off her helmet and dropped it to the ground. "You really live here?" she asked, her voice tinged with the faintest trace of warmth. This house, in all its chaotic glory, reminded her of her bedroom back home.
Uncle Mort dismounted the bike. "Yep. And now, so do you." He handed her a set of keys. "Your room is the first door on the left."
Lex, who from the moment of her conception had never had a room of her own, snatched the keys out of his hand and tore into the house. If she really was going to be stuck here for the duration of the summer, she might as well become accustomed to the living quarters in which she would undoubtedly be holing herself up. And at least this was an actual house with actual walls and not a crusty, fetid hayloft, as she had feared. It almost seemed--she hardly dared to think it--kind of cool.
She burst into the front hallway. Unsurprisingly, the kitchen was a mess, and the living room was buried under piles of unidentifiable paraphernalia. Useless junk clogged each pore. Empty photograph frames collected dust at every turn, while a large tank of jellyfish stretched across an entire wall, like a live mural. The luggage Lex's mother had sent sat at the edge of it all, blending in perfectly. Lex grinned, her sense of alienation abating. This was exactly the way she and Cordy had always preferred to live: in utter squalor and disarray.
Tingling with anticipation, Lex ran down the hall to her room and flung open the door.
Her face fell.
No bedlam. No eyesores. And not a single useless trinket.
Instead, a beautifully carved armoire stood gracefully in the corner. Next to it, a desk made from spotless white oak. Pink bedding, curtains, and rugs, as if a flamingo had exploded. And worst of all, looming on the wall across from the frilly, perfectly made bed: a Titanic movie poster.
Lex shrieked in horror and slammed the door. "What was that?"
"What's wrong?" Uncle Mort asked as he entered the house. "You don't like it?"
"I hate it! Were those doilies?!"
"Dammit." He sighed. "I thought I could trust him with this."
Lex glanced at the slightly open door across from hers, on which was tacked a poster of The Who. She peeked through the crack, but all she could see was a massive set of drums. Next to that, another door was wide open and spewing a heavy stream of smoke. She squinted down a set of stairs at several bubbling vials of goo.
"Your basement's on fire."
"Oh, that's just my lab," Uncle Mort calmly replied, closing the door and fanning the sulfuric fumes away. "I like to tinker."
"I see." Lex strayed back into the living room and looked around, confused. "Where's the TV?"
"I don't have one."
"WHAT?" she yelled. "WHAT?"
"After a few days you won't even care. And don't worry about your room; it'll all be fixed by the time we get back."
"Get back? Where are we going?"
"Out. Can't very well have the redecorators come in while you're still here, can we? Besides, we have to talk."
"Yeah, right." She let out a huff, walked into the kitchen, and sat down, throwing her muddy feet up onto the table. "You almost killed me about twelve times in the past hour. I'm not going anywhere with you."
"Ah, but you are."
"Make me."
"Gladly."
And with a lightning-quick swoop of his arm, Uncle Mort grabbed his niece by the waist yet again, flung her over his shoulder, and walked out the door.
As she was lugged upside down through the empty streets of Croak, Lex thrashed with a ferocity that would have impressed even the most seasoned probation officer. Yet Uncle Mort seemed not to notice, and before long, Lex's protests were reduced to nothing more than an occasional groan.
"Almost forgot--I promised your family we'd call when you got here," he said cheerfully as they passed into the other end of town, his shoulder digging into her stomach more and more with every step.
Lex, now fairly nauseated, jammed her elbow into his lower back and propped up her addled head onto her hand. "Here's an idea," she said weakly. "You put me down, I'll use my cell."
"No reception for miles. Hence, the Cuff," he said, indicating the strange band around his wrist.
"Fascinating. Put me down."
Uncle Mort ignored her. "Gotta make a personal call first." He did something to the Cuff--it turned staticky again and stayed that way--then began to quietly scold it. Lex thought she heard him utter a few key phrases like "it's a bedroom, not a Victoria's Secret," but by now she was teetering too closely to the brink of unconsciousness to even guess what was going on.
"I am about two seconds away from vomiting all over every inch of you," she told her uncle in a slurred voice as he hung up.
"And me without a poncho. Pity."
She riskily let out a small burp. "Oh God. Put me down. Please?"
"Was that a magic word I just heard? Did an ounce of politeness just escape the mouth of Lexington Bartleby? I think it did!" And with a surprising gentleness, he lowered his queasy passenger to her feet.
"Good?" he asked, giving her a hard pat on the shoulder.
"Yep." Lex's eyes focused, then unfocused. "Nope. Head rush," she said on her way to the ground. Five minutes later she woke up and squinted at her uncle's hovering head.
"Hey, kiddo. What's your name?" he asked.
"Lex."
"What month are we in?"
"July."
"Yankees or Mets?"
"Mets."
"Good girl." He yanked her up from the ground and pointed at a nearby hill. "This way."
Lex swallowed a couple of times, clutched her stomach, and followed him through the trees as he began talking into his wrist once more.
"Yep, she got in just fine, no problems to speak of. Lex, say hi to your dad."
"Dad!" She grabbed her uncle's arm and shouted into the flickering metal. "Your brother is a lunatic. He's trying to kill me!"
"Nice try, Lex," her father's tinny voice answered. "You're not getting home that easily."
"I don't think you're fully grasping the enormity of the situation, Dad. He doesn't even have a television!"
Uncle Mort jerked his arm away, hung up, and began walking faster. "Enough chat. Let's enjoy us some nature."
Lex tried to keep up. "Good idea. Find me a nice tree to puke on."
They were now ascending the gently sloping side of a grassy bluff. When at last they reached the top, Lex gaped at her surroundings, which included, among other things, an enormous gray boulder that almost seemed to be keeping watch over the town below. "Where are we?"
Uncle Mort walked to the brink of the precipice and sat down on the cliff 's edge. "Best place in Croak to watch the sunset."
Something in Lex snapped. She didn't want to watch a sunset. She wanted to be told what in holy hell was going on here. The rage stirred yet again, spurring her to grab her uncle's arm and twist it behind his back as hard as she could.
Seemingly bored with her antics, Uncle Mort breathed a peaceful sigh and gazed into the distance. The sun, a fiery ball of neon orange, set over the village below them.
"What can you see out there, Lex?" he asked in a tranquil voice.
"Well," Lex said, twisting harder, "I see a pitiful excuse for a town, some trees, a few hills, and an abusive, stark raving madman." She dug her nails into his wrist. "That about cover it?"
"More or less. Hey, would you mind letting go? It's starting to tickle."
Lex dropped his arm with a defeated grunt. How had she not separated his shoulder by now? Why wasn't he begging for mercy?
"Just sit," he said. "You may continue your attempt to detach one of my limbs later. Right now, there are some things you need to know."
Lex sat, defeated, exhausted, but most of all, confused--because despite all efforts to suppress such inclinations, she could not help but feel the tiniest bit of admiration for her uncle, who was now wiping away the few drops of blood that emerged where her nails had dug into his skin.
He caught her sheepish gaze. "Don't worry, I've encountered much worse," he said, his eyes sparkling with either youthful excitement or demented delirium. "I knew you'd put up a good fight. I'd be surprised and frankly insulted if you hadn't."
Lex cocked her head. The wrath that had raged within her only seconds ago seemed to be rapidly melting away of its own accord, like an ebbing storm. What was going on?
"But you're also smart," he went on, "which is why you're going to listen very closely to what I'm about to tell you. Right?"
Lex found herself nodding. How did he do that?
He turned serious, all traces of insanity abruptly leaving his face. "Your parents haven't been entirely forthcoming with you, Lex. Nor have I been entirely forthcoming with your parents. It was my idea for you to come here, not theirs. When I heard that you had turned delinquent, I knew your time had come. So I suggested to your father that you visit me and experience some country living." His eyes turned dark. "But that is not your purpose here."
Lex listened as patiently as she could, tearing a piece of grass into microscopic shards.
"We're going into town tomorrow, and I want you to be prepared. What we do here is important business and should never, ever be taken lightly. We have been blessed--and burdened--with a very grave responsibility, if you'll forgive the pun." He glanced over the valley. "Croak, as you may have gathered, is a different kind of town. All of its citizens exist for a common purpose. Naturally, from time to time we need some fresh blood, which is where you come in. And as I said earlier, you're going to be a natural. Trust me on that one. All you need to do is pay close attention, learn as much as you can, and try not to be scared by anything you see."
"Scared of what?" she said. "How disgustingly adorable your little village is? The perfectly groomed flowers? The--the . . ." Lex trailed off. A national coffee shop chain wasn't the only thing missing from this town. She had seen no firehouses, no police departments, churches, gas stations, schools . . .
A furious outbreak of goose bumps flickered across her skin. Everything was starting to feel very strange.
That same electric crackle shot through the air once more as Uncle Mort opened his mouth to speak. "Lex," he said, "Croak is a portal--one that sits between our world and the next."
A strange noise escaped Lex's lips, something between a stupefied gasp and a dubious snicker. "What?"
"That's why you're here. I'm going to teach you how to do what I do."
"And what is that?"
He leaned in close. She could feel his breath on her face.
"I Kill people."
Copyright © 2012 by Gina Damico
Reviews
There are currently no reviews for this novel. Be the first to submit one! You must be logged in to submit a review in the BookTrackr section above.
Images
No alternate cover images currently exist for this novel. Be the first to submit one!