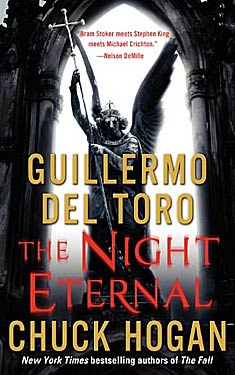 Synopsis
From the authors of the instant New York Times bestsellers The Strain and The Fall comes the final volume in one of the most electrifying thriller series in years.
It's been two years since the vampiric virus was unleashed in The Strain, and the entire world now lies on the brink of annihilation. There is only night as nuclear winter blankets the land, the sun filtering through the poisoned atmosphere for two hours each day-the perfect environment for the propagation of vampires.
There has been a mass extermination of humans, the best and the brightest, the wealthy and the influential, orchestrated by the Master-an ancient vampire possessed of unparalleled powers-who selects survivors based on compliance. Those humans who remain are entirely subjugated, interred in camps, and separated by status: those who breed more humans, and those who are bled for the sustenance of the Master's vast army.
The future of humankind lies in the hands of a ragtag band of freedom fighters-Dr. Eph Goodweather, former head of the Centers for Disease Control's biological threats team; Dr. Nora Martinez, a fellow doctor with a talent for dispatching the undead; Vasiliy Fet, the colorful Russian exterminator; and Mr. Quinlan, the half-breed offspring of the Master who is bent on revenge. It's their job to rescue Eph's son, Zack, and overturn this devastating new world order. But good and evil are malleable terms now, and the Master is most skilled at preying on the weaknesses of humans.
Now, at this critical hour, there is evidence of a traitor in their midst. . . . And only one man holds the answer to the Master's demise, but is he one who can be trusted with the fate of the world? And who among them will pay the ultimate sacrifice-so that others may be saved?
Excerpt
No excerpt currently exists for this novel.
Reviews
Images
No alternate cover images currently exist for this novel.