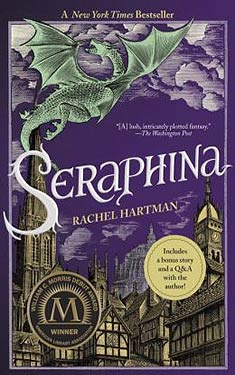 Synopsis
Four decades of peace have done little to ease the mistrust between humans and dragons in the kingdom of Goredd. Folding themselves into human shape, dragons attend court as ambassadors, and lend their rational, mathematical minds to universities as scholars and teachers. As the treaty's anniversary draws near, however, tensions are high.
Seraphina Dombegh has reason to fear both sides. An unusually gifted musician, she joins the court just as a member of the royal family is murdered-in suspiciously draconian fashion. Seraphina is drawn into the investigation, partnering with the captain of the Queen's Guard, the dangerously perceptive Prince Lucian Kiggs. While they begin to uncover hints of a sinister plot to destroy the peace, Seraphina struggles to protect her own secret, the secret behind her musical gift, one so terrible that its discovery could mean her very life.
Excerpt
"He was going to kill you," I said, my chin quivering. "I had to do something."
Damn propriety. Forgive me, St. Clare.
I stepped forward and took him in my arms. He was exactly my height, which surprised me; my awe of him had made him seem taller. He emitted a whimper of protest, or maybe surprise, but wrapped his arms around me and buried his face in my hair, half weeping, half scolding me.
"Life is so short," I said, not sure why I was saying it, not even sure if that was really true for someone like me.
We were still standing there, clinging to each other, our feet ice-cold in the snow, when Orma landed on the next hilltop, followed closely by Basind. Kiggs lifted his head and stared at them, big-eyed. My heart fell.
I'd told him I had no devices. I'd lied right to the prince's face, and here was the proof: the dragon I'd called, and his dimwitted sidekick.
Copyright © 2012 by Rachel Hartman
Reviews
Images
No alternate cover images currently exist for this novel.