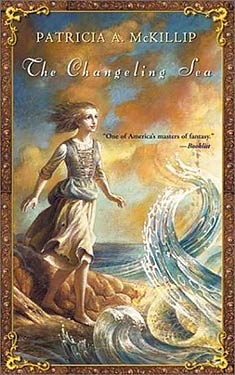 Synopsis
Since the day her father's fishing boat returned without him, Peri and her mother have mourned his loss. Her mother sinks into a deep depression and spends her days gazing out at the sea. Unable to control her anger and sadness any longer, Peri uses the small magic she knows to hex the sea. And suddenly into her drab life come the King's sons-changelings with strange ties to the underwater kingdom-a young magician, and, finally, love.
Excerpt
Peri grunted and shoved her scrub-bucket farther down the hall. The waves of suds she sent across the floor turned into tide and foam.
There was a sudden crash. The inn door, with someone clinging to it, had blown open under a vigorous puff of spring wind. Peri looked up to see a stranger lose his balance on her tide. He danced upright a moment. Then he tossed his arms, fell, and slid down the hall to kick over her bucket before he washed to a halt under her astonished nose.
They stared at each other, nose to nose. The stranger lay prone, panting slightly. Peri, wordless, sat back on her knees, her brush suspended, dripping on the stranger's hair.
He popped a soap bubble with one forefinger and said, "I heard a rumor that someone here needs a magician." He got slowly to his feet and ran a hand down his dripping clothes. The dripping stopped. The flagstones were suddenly dry. So was the puddle outside the door.
Copyright © 1988 by Patricia A. McKillip
Reviews
Images
No alternate cover images currently exist for this novel.