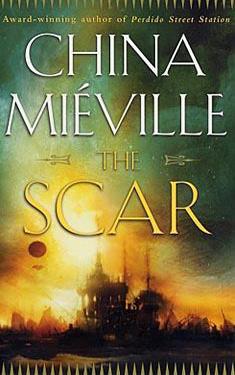 Synopsis
Aboard a vast seafaring vessel, a band of prisoners and slaves, their bodies remade into grotesque biological oddities, is being transported to the fledgling colony of New Crobuzon. But the journey is not theirs alone. They are joined by a handful of travelers, each with a reason for fleeing the city. Among them is Bellis Coldwine, a renowned linguist whose services as an interpreter grant her passageand escape from horrific punishment. For she is linked to Isaac Dan der Grimnebulin, the brilliant renegade scientist who has unwittingly unleashed a nightmare upon New Crobuzon.
For Bellis, the plan is clear: live among the new frontiersmen of the colony until it is safe to return home. But when the ship is besieged by pirates on the Swollen Ocean, the senior officers are summarily executed. The surviving passengers are brought to Armada, a city constructed from the hulls of pirated ships, a floating, landless mass ruled by the bizarre duality called the Lovers. On Armada, everyone is given work, and even Remades live as equals to humans, Cactae, and Cray. Yet no one may ever leave.
Lonely and embittered in her captivity, Bellis knows that to show dissent is a death sentence. Instead, she must furtively seek information about Armada's agenda. The answer lies in the dark, amorphous shapes that float undetected miles below the watersterrifying entities with a singular, chilling mission....
Excerpt
It is only ten miles beyond the city that the river loses its momentum, drooling into the brackish estuary that feeds Iron Bay.
The boats that make the eastward journey out of New Crobuzon enter a lower landscape. To the south there are huts and rotten little jetties, from where rural laborers fish to supplement monotonous diets. Their children wave at travelers, warily. Occasionally there is a knoll of rock or a small copse of darkwood trees, places that defy cultivation, but mostly the land is clear of stones.
From the decks, sailors can see over the fringe of hedgerow and trees and bramble to a tract of fields. This is the stubby end of the Grain Spiral, the long curl of farmland that feeds the city. Men and women can be seen among the crops, or plowing the black earth, or burning the stubbledepending on the season. Barges putter weirdly between fields, on canals hidden by banks of earth and vegetation. They go endlessly between the metropolis and the estates. They bring chymicals and fuel, stone and cement and luxuries to the country. They return to the city past acres of cultivation studded with hamlets, great houses, and mills, with sack upon sack of grain and meat.
The transport never stops. New Crobuzon is insatiable.
The north bank of the Gross Tar is wilder.
It is a long expanse of scrub and marsh. It stretches out for more than eighty miles, till the foothills and low mountains that creep at it from the west cover it completely. Ringed by the river, the mountains, and the sea, the rocky scrubland is an empty place. If there are inhabitants other than the birds, they stay out of sight.
Bellis Coldwine took her passage on an east-bound boat in the last quarter of the year, at a time of constant rain. The fields she saw were cold mud. The half-bare trees dripped. Their silhouettes looked wetly inked onto the clouds.
Later, when she thought back to that miserable time, Bellis was shaken by the detail of her memories. She could recall the formation of a flock of geese that passed over the boat, barking; the stench of sap and earth; the slate shade of the sky. She remembered searching the hedgerow with her eyes but seeing no one. Only threads of woodsmoke in the soaking air, and squat houses shuttered against weather.
The subdued movement of greenery in the wind.
She had stood on the deck enveloped in her shawl and watched and listened for children's games or anglers, or for someone tending one of the battered kitchen gardens she saw. But she heard only feral birds. The only human forms she saw were scarecrows, their rudimentary features impassive.
It had not been a long journey, but the memory of it filled her like infection. She had felt tethered by time to the city behind her, so that the minutes stretched out taut as she moved away, and slowed the farther she got, dragging out her little voyage.
And then they had snapped, and she had found herself catapulted here, now, alone and away from home.
Much later, when she was miles from everything she knew, Bellis would wake, astonished that it was not the city itself, her home for more than forty years, that she dreamed of. It was that little stretch of river, that weatherbeaten corridor of country that had surrounded her for less than half a day.
In a quiet stretch of water, a few hundred feet from the rocky shore of Iron Bay, three decrepit ships were moored. Their anchors were rooted deep in silt. The chains that attached them were scabbed with years of barnacles.
They were unseaworthy, smeared bitumen-black, with big wooden structures built precariously at the stern and bow. Their masts were stumps. Their chimneys were cold and crusted with old guano.
The ships were close together. They were ringed with buoys strung together with barbed chain, above and below the water. The three old vessels were enclosed in their own patch of sea, unmoved by any currents.
They drew the eye. They were watched.
In another ship some distance away, Bellis raised herself to her porthole and looked out at them, as she had done several times over the previous hours. She folded her arms tight below her breasts and bent forward toward the glass.
Her berth seemed quite still. The movement of the sea beneath her was slow and slight enough to be imperceptible.
The sky was flint-grey and sodden. The shoreline and the rock hills that ringed Iron Bay looked worn and very cold, patched with crabgrass and pale saline ferns.
Those wooden hulks on the water were the darkest things visible.
Bellis sat slowly back on her bunk and picked up her letter. It was written like a diary; lines or paragraphs separated by dates. As she read over what she had last written she opened a tin box of prerolled cigarillos and matches. She lit up and inhaled deeply, pulling a fountain pen from her pocket and adding several words in a terse hand before she breathed the smoke away.
Skullday 26th Rinden 1779. Aboard the Terpsichoria It is nearly a week since we left the mooring in Tarmuth, and I am glad to have gone. It is an ugly, violent town.
I spent my nights in my lodgings, as advised, but my days were my own. I saw what there was to the place. It is ribbon-thin, a strip of industry that juts a mile or so north and south of the estuary, split by the water. Every day, the few thousand residents are joined by huge numbers who come from the city at dawn, making their way from New Crobuzon in boat- and cartloads to work. Every night the bars and bordellos are full of foreign sailors on brief shore leave.
Most reputable ships, I am told, travel the extra miles to New Crobuzon itself, to unload in the Kelltree docks. Tarmuth docks have not worked at more than half-capacity for two hundred years. It is only tramp steamers and freebooters that unload theretheir cargoes will end up in the city just the same, but they have neither the time nor the money for the extra miles and the higher duty imposed by official channels.
There are always ships. Iron Bay is full of shipsbreaking off from long journeys, sheltering from the sea. Merchant boats from Gnurr Kett and Khadoh and Shankell, on their way to or from New Crobuzon, moored near enough Tarmuth for their crews to relax. Sometimes, far out in the middle of the bay, I saw seawyrms released from the bridles of chariot-ships, playing and hunting.
The economy of Tarmuth is more than prostitution and piracy. The town is full of industrial yards and sidings. It lives as it has for centuries, on the building of ships. The shoreline is punctuated with scores of shipyards, building slipways like weird forests of vertical girders. In some loom ghostly half-completed vessels. The work is ceaseless, loud, and filthy.
The streets are crisscrossed with little private railways that take timber or fuel or whatever from one side of Tarmuth to the other. Each different company has built its own line to link its various concerns, and each is jealously guarded. The town is an idiotic tangle of railways, all replicating each other's journeys.
I don't know if you know this. I don't know if you have visited this town.
The people here have an ambivalent relationship with New Crobuzon. Tarmuth could not exist a solitary day without the patronage of the capital. They know it and resent it. Their surly independence is an affectation.
I had to stay there almost three weeks. The captain of the Terpsichoria was shocked when I told him I would join him in Tarmuth itself, rather than sailing with him from New Crobuzon, but I insisted, as I had to. My position on this ship was conditional on a knowledge of Salkrikaltor Cray, which I falsely claimed. I had less than a month until we sailed, to make my lie a truth.
I made arrangements. I spent my days in Tarmuth in the company of one Marikkatch, an elderly he-cray who had agreed to act as my tutor. Every day I would walk to the salt canals of the cray quarter. I would sit on the low balcony that circled his room, and he would settle his armored underbody on some submerged furnishing and scratch and twitch his scrawny human chest, haranguing me from the water.
It was hard. He does not read. He is not a trained teacher. He stays in the town only because some accident or predator has maimed him, tearing off all but one leg from his left side, so that he can no longer hunt even the sluggish fish of Iron Bay. It might make a better story to claim that I had affection for him, that he is a lovable, cantankerous old gentleman, but he is a shit and a bore. I could make no complaints, however. I had no choice but to concentrate, to effect a few focus hexes, will myself into the language trance (and oh! how hard that was! I have left it so long my mind has grown fat and disgusting!) and drink in every word he gave me.
It was hurried and unsystematicit was a mess, a bloody messbut by the time the Terpsichoria tied up in the harbor I had a working understanding of his clicking tongue.
I left the embittered old bastard to his stagnant water, quit my lodgings there, and came to my cabinthis cabin from where I write.
We sailed away from Tarmuth port on the morning of Dustday, heading slowly toward the deserted southern shores of Iron Bay, twenty miles from town. In careful formation at strategic points around the edge of the bay, in quiet spots by rugged land and pine forests, I spotted ships. No one will speak of them. I know they are the ships of the New Crobuzon government. Privateers and others.
It is now Skullday.
On Chainday I was able to persuade the captain to let me disembark, and I spent the morning on the shore. Iron Bay is drab, but anything is better than the damned ship. I am beginning to doubt that it is an improvement on Tarmuth. I am driven to bedlam by the incessant, moronic slap of waves.
Two taciturn crewmen rowed me ashore, watching without pity as I stepped over the edge of the little boat and walked the last few feet through freezing surf.
Copyright © 2002 by China Miéville
Reviews
Images
No alternate cover images currently exist for this novel.