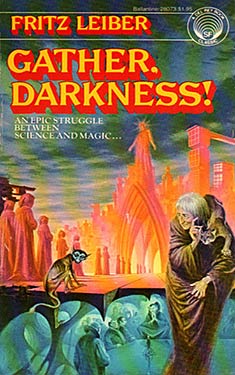 Synopsis
GATHER, DARKNESS! is a science-fiction classic. It tells the story of Armon Jarles, a man on the edge, living amidst the disputes of two rival powers at large in the world. 360 years after a nuclear holocaust ravaged mankind, throwing society back into the dark ages, the world is fraught with chaos and superstition. The new rulers over the masses of humanity are the techno-priests of the Great God, endowed with scientific knowledge lost to the rest of humanity. Jarles, originally of peasant descent, rises to become a priest of the Great God. He knows the gospel propagated by the priests to be a fraud, based on illusion and trickery. Even more offensive to him is the paucity of true believers among the priesthood. One day he rebels against his priestly training and attempts to incite the peasants to rise up and demand freedom, but they are not ready. Jarles is not the only dissenter trying to sabotage and expose the false theocracy of the priesthood - witchcraft is slowly gaining strength and support among the populace. Although Jarles is unaware, his rebellion against the power of the priests is about to throw him headlong into the middle of the greatest holy war the world has ever seen.
Excerpt
No excerpt currently exists for this novel.
Reviews
Images
No alternate cover images currently exist for this novel.