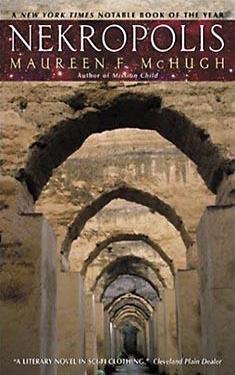 Synopsis
An extraordinary literary artist offers a powerful vision of tomorrow in a world barely touched by the passing centuries.
There is life in the Nekropolis -- but no future. Hariba spent her youth here, among the exquisite paper flower wreaths her mother meticulously constructed, playing contentedly with other children around the rows and rows of old buildings housing the crumbling bones of the dead. But when an older brother's criminal indiscretion robbed Hariba of any possibility of a husband, she agreed to have herself "jessed" -- submitting to the technoblological process designed to render her docile and subservient to whomever has purchased her service. In this way, Hariba could escape the confinement of her surroundings and hopelessness of her fate...though she could never again be truly free.
At the age of twenty-six, she enters the house of a wealthy merchant as an indentured servant. It is a new world for Hariba, filled with many wondrous objects and strange amusements that she has never before seen. But there is one thing in this place that greatly disturbs her: a harni, an intelligent, machine-bred creature of flesh and organs, a perfect replica of a man. A menial, like herself, it calls itself "Akhmim." And it unsettles Hariba with its beauty, its nave, inappropriate tenderness -- and with prying, unanswerable questions like "Why are you sad?"
But slowly, almost imperceptibly, Hariba's revulsion metamorphoses into acceptance, and then into something much more. For Akhmim, like her, is a nonentity at the very bottom of the social order -- and the harni's gentle concern for her is real. And if she shuts out the accusing voices in her head, Hariba can even forget that Akhmim is less than human.
Dangerous thoughts, however, must inevitably lead to dangerous actions -- and outlaw emotions can breed an unholy love defying the strictly enforced edicts of God and man. Soon feelings Hariba can neither control nor ignore have her contemplating the unthinkable -- escape. But the "jessed" abandon their masters at the risk of sickness, pain, imprisonment, and perhaps even death. And there is no safe haven for a rebel servant and a runaway A.I. -- not even within the shunned, technology-barren bowels of the city of the dead.
Hugo Award winner Maureen F. McHugh has written a provocative, powerfully dazzling novel of repression and reawakening -- and a unique, profoundly moving love storythat stands alongside the acclaimed works of Ursula K. Le Guin and Margaret Atwood.
Excerpt
No excerpt currently exists for this novel.
Reviews
There are currently no reviews for this novel. Be the first to submit one! You must be logged in to submit a review in the BookTrackr section above.
Images
No alternate cover images currently exist for this novel.