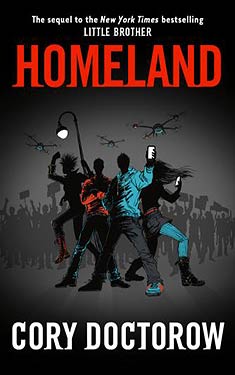 Synopsis
In Cory Doctorow's wildly successful Little Brother, young Marcus Yallow was arbitrarily detained and brutalized by the government in the wake of a terrorist attack on San Francisco-an experience that led him to become a leader of the whole movement of technologically clued-in teenagers, fighting back against the tyrannical security state.
A few years later, California's economy collapses, but Marcus's hacktivist past lands him a job as webmaster for a crusading politician who promises reform. Soon his former nemesis Masha emerges from the political underground to gift him with a thumbdrive containing a Wikileaks-style cable-dump of hard evidence of corporate and governmental perfidy. It's incendiary stuff-and if Masha goes missing, Marcus is supposed to release it to the world. Then Marcus sees Masha being kidnapped by the same government agents who detained and tortured Marcus years earlier.
Marcus can leak the archive Masha gave him-but he can't admit to being the leaker, because that will cost his employer the election. He's surrounded by friends who remember what he did a few years ago and regard him as a hacker hero. He can't even attend a demonstration without being dragged onstage and handed a mike. He's not at all sure that just dumping the archive onto the Internet, before he's gone through its millions of words, is the right thing to do.
Meanwhile, people are beginning to shadow him, people who look like they're used to inflicting pain until they get the answers they want.
Fast-moving, passionate, and as current as next week, Homeland is every bit the equal of Little Brother -- a paean to activism, to courage, to the drive to make the world a better place.
Download this book for free from the author's website.
Excerpt
Chapter 1
Attending Burning Man made me simultaneously one of the most photographed people on the planet and one of the least surveilled humans in the modern world.
I adjusted my burnoose, covering up my nose and mouth and tucking its edge into place under the lower rim of my big, scratched goggles. The sun was high, the temperature well over a hundred degrees, and breathing through the embroidered cotton scarf made it even more stifling. But the wind had just kicked up, and there was a lot of playa dust--fine gypsum sand, deceptively soft and powdery, but alkali enough to make your eyes burn and your skin crack--and after two days in the desert, I had learned that it was better to be hot than to choke.
Pretty much everyone was holding a camera of some kind--mostly phones, of course, but also big SLRs and even old-fashioned film cameras, including a genuine antique plate camera whose operator hid out from the dust under a huge black cloth that made me hot just to look at it. Everything was ruggedized for the fine, blowing dust, mostly through the simple expedient of sticking it in a ziplock bag, which is what I'd done with my phone. I turned around slowly to get a panorama and saw that the man walking past me was holding the string for a gigantic helium balloon a hundred yards overhead, from which dangled a digital video camera. Also, the man holding the balloon was naked.
Well, not entirely. He was wearing shoes. I understood that: playa dust is hard on your feet. They call it playa-foot, when the alkali dust dries out your skin so much that it starts to crack and peel. Everyone agrees that playa-foot sucks.
Burning Man is a festival held every Labor Day weekend in the middle of Nevada's Black Rock Desert. Fifty thousand people show up in this incredibly harsh, hot, dusty environment and build a huge city--Black Rock City--and participate. "Spectator" is a vicious insult in Black Rock City. Everyone's supposed to be doing stuff and, yeah, also admiring everyone else's stuff (hence all the cameras). At Burning Man, everyone is the show.
I wasn't naked, but the parts of me that were showing were decorated with elaborate mandalas laid on with colored zinc. A lady as old as my mother, wearing a tie-dyed wedding dress, had offered to paint me that morning, and she'd done a great job. That's another thing about Burning Man: it runs on a gift economy, which means that you generally go around offering nice things to strangers a lot, which makes for a surprisingly pleasant environment. The designs the painter had laid down made me look amazing, and there were plenty of cameras aiming my way as I ambled across the open desert toward Nine O'Clock.
Black Rock City is a pretty modern city: it has public sanitation (portable chem-toilets decorated with raunchy poems reminding you not to put anything but toilet paper in them), electricity and Internet service (at Six O'Clock, the main plaza in the middle of the ring-shaped city), something like a government (the nonprofit that runs Burning Man), several local newspapers (all of them doing better than the newspapers in the real world!), a dozen radio stations, an all-volunteer police force (the Black Rock Rangers, who patrolled wearing tutus or parts of chicken suits or glitter paint), and many other amenities associated with the modern world.
But BRC has no official surveillance. There are no CCTVs, no checkpoints--at least not after the main gate, where tickets are collected--no ID checks at all, no bag searches, no RFID sniffers, no mobile phone companies logging your movements. There was also no mobile phone service. No one drives--except for the weird art cars registered with the Department of Mutant Vehicles--so there were no license plate cameras and no sniffers for your E-ZPasses. The WiFi was open and unlogged. Attendees at Burning Man agreed not to use their photos commercially without permission, and it was generally considered polite to ask people before taking their portraits.
So there I was, having my picture taken through the blowing dust as I gulped down water from the water jug I kept clipped to my belt at all times, sucking at the stubby built-in straw under cover of the blue-and-silver burnoose, simultaneously observed and observer, simultaneously observed and unsurveilled, and it was glorious.
"Wahoo!" I shouted to the dust and the art cars and the naked people and the enormous wooden splay-armed effigy perched atop a pyramid straight ahead of me in the middle of the desert. This was The Man, and we'd burn him in three nights, and that's why it was called Burning Man. I couldn't wait.
"You're in a good mood," a jawa said from behind me. Even with the tone-shifter built into its dust mask, the cloaked sand-person had an awfully familiar voice.
"Ange?" I said. We'd been missing each other all that day, ever since I'd woken up an hour before her and snuck out of the tent to catch the sunrise (which was awesome), and we'd been leaving each other notes back at camp all day about where we were heading next. Ange had spent the summer spinning up the jawa robes, working with cooling towels that trapped sweat as it evaporated, channeling it back over her skin for extra evaporative cooling. She'd hand-dyed it a mottled brown, tailored it into the characteristic monkish robe shape, and added crossed bandoliers. These exaggerated her breasts, which made the whole thing entirely and totally warsome. She hadn't worn it out in public yet, and now, in the dust and the glare, she was undoubtedly the greatest sand-person I'd ever met. I hugged her and she hugged me back so hard it knocked the wind out of me, one of her trademarked wrestling-hold cuddles.
"I smudged your paint," she said through the voice-shifter after we unclinched.
"I got zinc on your robes," I said.
She shrugged. "Like it matters! We both look fabulous. Now, what have you seen and what have you done and where have you been, young man?"
"Where to start?" I said. I'd been wandering up and down the radial avenues that cut through the city, lined with big camps sporting odd exhibits--one camp where a line of people were efficiently making snow cones for anyone who wanted them, working with huge blocks of ice and a vicious ice-shaver. Then a camp where someone had set up a tall, linoleum-covered slide that you could toboggan down on a plastic magic carpet, after first dumping a gallon of waste water over the lino to make it plenty slippery. It was a very clever way to get rid of gray water (that's water that you've showered in, or used to wash your dishes or hands--black water being water that's got poo or pee in it). One of the other Burning Man rules was "leave no trace"--when we left, we'd take every scrap of Black Rock City with us, and that included all the gray water. But the slide made for a great gray water evaporator, and every drop of liquid that the sliders helped turn into vapor was a drop of liquid the camp wouldn't have to pack all the way back to Reno.
There'd been pervy camps where they were teaching couples to tie each other up; a "junk food glory hole" that you put your mouth over in order to receive a mysterious and unhealthy treat (I'd gotten a mouthful of some kind of super-sugary breakfast cereal studded with coconut "marshmallows" shaped like astrological symbols); a camp where they were offering free service for playa bikes (beater bikes caked with playa dust and decorated with glitter and fun fur and weird fetishes and bells); a tea-house camp where I'd been given a very precisely made cup of some kind of Japanese tea I'd never heard of that was delicious and sharp; camps full of whimsy; camps full of physics; camps full of optical illusions; camps full of men and women; a kids' camp full of screaming kids running around playing some kind of semisupervised outdoor game--things I'd never suspected existed.
And I'd only seen a tiny slice of Black Rock City.
I told Ange about as much as I could remember and she nodded or said "ooh," or "aah," or demanded to know where I'd seen things. Then she told me about the stuff she'd seen--a camp where topless women were painting one another's breasts; a camp where an entire brass band was performing; a camp where they'd built a medieval trebuchet that fired ancient, broken-down pianos down a firing range, the audience holding its breath in total silence while they waited for the glorious crash each piano made when it exploded into flinders on the hardpack desert.
"Can you believe this place?" Ange said, jumping up and down on the spot in excitement, making her bandoliers jingle.
"I know--can you believe we almost didn't make it?"
I'd always sort of planned on going out to see The Man burn--after all, I grew up in San Francisco, the place with the largest concentration of burners in the world. But it took a lot of work to participate in Burning Man. First, there was the matter of packing for a camping trip in the middle of the desert where you had to pack in everything--including water--and then pack it all out again, everything you didn't leave behind in the porta-potties. And there were very strict rules about what could go in those. Then there was the gift economy: figuring out what I could bring to the desert that someone else might want. Plus the matter of costumes, cool art, and inventions to show off ... every time I started to think about it, I just about had a nervous breakdown.
But this year, of all years, I'd made it. This was the year both my parents lost their jobs. The year I'd dropped out...
Copyright © 2013 by Cory Doctorow
Reviews
Images
No alternate cover images currently exist for this novel. Be the first to submit one!