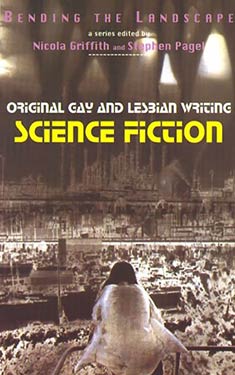 Bending the Landscape: Science Fiction
Synopsis
Edited by world-renowned lesbian fantasy author Nicola Griffith and fantasy publisher Stephen Pagel, this groundbreaking anthology of all-original science fiction stories brings together some of mainstream's and science fiction's most notable writers -- gay and straight -- creating worlds where time and place and sexuality are alternative to the empirical environment. Keith Hartman's "Sex, Guns and Baptists" gives a disturbing view of how the world could become if the Christian fundamentalists continue gaining political ground; Ralph Sperry's delightful aliens in "On Vacation" are refreshingly similar to us: shy workaholics, exasperated lovers, good with machines; Ellen Klages takes a '90s dyke back forty years to 1950s San Francisco where she discovers her modern sensibilities are utterly alien to the lesbians of the time. These stories explore physical, emotional, and moral landscapes vastly different from the familiar -- where nothing is as it seems.This group of talented newcomers and award-winning genre veterans includes Jim Grimsley, Mark W. Tiedemann, Charles Sheffield, Carrie Richerson, Keith Hartman, Nancy Kress, Richard Bamburg, L. Timmel Duchamp, Charles Sheffield, Don Bassingthwaite, and many others.
Table of Contents:
Introduction - essay by Nicola Griffith and Stephen Pagel
Sex, Guns, and Baptists - shortstory by Keith Hartman
Half in Love With Easeful Rock and Roll - shortstory by Rebecca Ore
Powertool - shortfiction by Mark McLaughlin
Time Gypsy - novelette by Ellen Klages
Lonely Land - novelette by Denise Lopes Heald
The Rendez-Vous - shortstory by Nancy Johnston
Silent Passion - novelette by Kathleen O'Malley
Sun-Drenched - shortstory by Stephen Baxter
The Flying Triangle - shortstory by Allen Steele
Brooks Too Broad For Leaping - shortstory by Charles Sheffield
A Real Girl - shortstory by Shariann Lewitt
Dance at the Edge - novelette by L. Timmel Duchamp
Love's Last Farewell - shortstory by Richard A. Bamberg
On Vacation - novelette by Ralph A. Sperry
The City in Morning - shortstory by Carrie Richerson
State of Nature - shortstory by Nancy Kress
The Beautiful People - shortstory by Wendy Rathbone
Who Plays With Sin - novelette by Don Bassingthwaite
Surfaces - novelette by Mark W. Tiedemann
Stay Thy Flight - shortstory by Élisabeth Vonarburg
Free in Asveroth - shortstory by Jim Grimsley
Excerpt
No excerpt currently exists for this novel.
Reviews
Images
No alternate cover images currently exist for this novel.