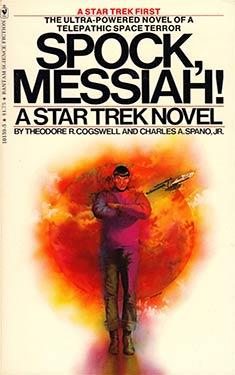 Synopsis
The victim of a cruel experiment, Commander Spock renounces the USS Enterprise, becomes the Messiah of the planet Kyros, and launches a holy war on the rest of the world.
The USS Enterprise visits the planet Kyros to observe the population and test a new telepathic implant. The people living on the planet traditionally cover their faces, so the implant devices allow the crewmembers to mentally link with a member of the populace, accessing both their memories and instincts - which will allow the crew to walk around the planet freely.
But something goes wrong when Ensign Sara George becomes sexually promiscuous. Following an away mission to the planet, Spock refuses to return to the ship and declares himself to be the messiah of the planet. He threatens to destroy some important crystals on the planet which are needed by the ship.
Captain Kirk and the crew must retrieve Spock, obtain the critically-important crystals, and get the ship away before deadly radiation destroys them all.
The initial fan reaction to Spock, Messiah! was poor, and sales were lower than expected following the earlier success of James Blish's Spock Must Die!. The review in Science Fiction and Fantasy Book Review magazine suggested that the plot was far-fetched, and described it as "Spocks-ploitation". Issues with the book include racism, where Uhura is called "a black" and Sulu "the oriental". Daily Kos reviewer Lisa Evans described Spock, Messiah! as the "single worst Star Trek story I have ever read, either fan or pro."
Excerpt
No excerpt currently exists for this novel.
Reviews
Images
No alternate cover images currently exist for this novel.