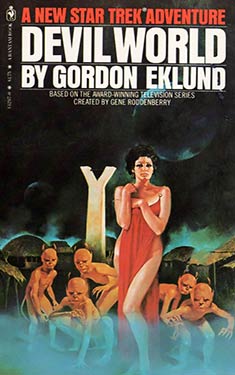 Synopsis
VOYAGE TO HEARTLAND
Heartland... a mysterious planet populated by a small but terrifying race of demonic beings.
Heartland... where Captain Kirk falls in love with a beautiful, mysterious woman with a fatal secret.
Heartland... where Kirk, Spock, and the rest of the Enterprise crew will be challenged by an awesome disembodied intelligence, more powerful than any other force in the universe!
While on shore leave at Starbase 13, Captain Kirk and his officers meet the renowned senseo-artist Gilla Dupree, a pale and fragile woman desperately seeking her lost father, Jacob Kell. When Kirk learns that Kell was last seen on Heartland, a planet that was quarantined after one hundred colonists went mad, he decides to help Gilla retrieve her father, while removing him to enforce the quarantine. The crew of the Enterprise discovers that the native inhabitants of Heartland, the demonic-looking Danons, constructed a massive god-like super-computer called the Great Machine to help win an ancient war.
However, as this ancient race nears extinction, the Great Machine becomes desperate to find someone to take the place of the Danons. Most humanoids go insane when they encounter the machine - Jacob Kell was one of the very few who were strong enough to act as the Great Machine's instrument. Gilla, who is dying from a massive and untreatable tumor, refuses to abandon her father to this fate. She gives her last days to take his place so that he may live. Kirk attempts a rescue but barely escapes with his life. He is forced to recommend a continuation of the quarantine to Starfleet while a woman he loves dies on the planet below him.
Excerpt
No excerpt currently exists for this novel.
Reviews
Images
No alternate cover images currently exist for this novel.