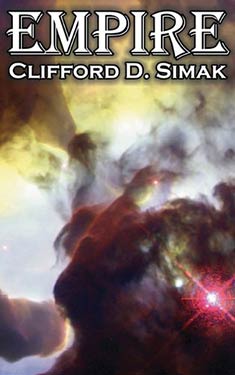 Synopsis
Spencer Chambers wants to make the solar system his own personal Empire. A trillionaire and industrialist he owns the ships that can carry humanity to freedom and plenty in the untapped riches of the solar system. In return he wants to charge exorbitant prices making it so that he will end up owning every planet and asteroid. Gregory Manning has a different idea. He sees a solar system open to everyone. Only one man's vision for the future of humanity can come true: slavery or freedom. Gregory Manning has an ace up his sleeve--a scientific ace.
Excerpt
Four men were in the room -- Chambers himself; Craven, the scientist; Arnold Grant, head of Interplanetary's publicity department, and Harry Wilson!
Wilson's voice came out of the screen, a frantic, almost terrified voice.
"I've told you all I know. I'm not a scientist. I'm a mechanic. I've told you what they're doing. I can't tell you how they do it."
Arnold Grant leaned forward in his chair. His face was twisted in fury.
"There were plans, weren't there?" he demanded. "There were equations and formulas. Why didn't you bring us some of them?"
"I tried," pleaded Wilson. Perspiration stood out on his forehead. The cigarette in his mouth was limp and dead. "One of them was always there. I never could get hold of any papers. I asked questions, but they were too busy to answer. And I couldn't ask too much, because then they would have suspected me."
Half a continent away, the men they were speaking of -- the very men that Wilson had been hired to spy upon -- were watching everything that was said. They were not pleased.
Copyright © 1951 by Clifford D. Simak
Reviews
Images
No alternate cover images currently exist for this novel. Be the first to submit one!