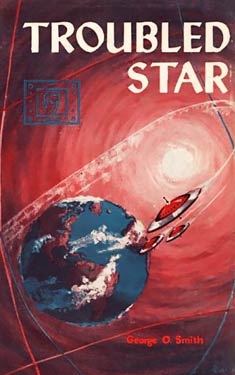 Synopsis
An advanced alien race is considering our sun as a reference point on their star route, but must first determine if there are any intelligent life-forms in its solar system, since altering the sun would be fatal for all the system's life. The aliens seek to contact the most highly-regarded being on planet Earth, coming up with Dusty Britton of the Space Patrol. What they DON'T realize is that he's an actor, star of a hit sci-fi TV show! Egotistical Dusty quickly realizes that he must now play his TV role in real life in order to save the solar system from disaster.
Excerpt
To the technicians of Marandis, center of a galactic culture, the problem seemed simple enough. A new star route had been discovered through the galaxy, and markers were needed to guide the ships. Three technicians landed on a small planet near a small sun, which had been chosen for such a traffic role. Chat Honger, Bren Fallow and Seyth Radnor soon found that the third planet of this little sun did contain intelligent life. And since making this sun into a three-day variable star would be fatal to life on this planet, measures had to be taken to protect these people.
Contact had to be made with the leader of this world so that the situation could be explained to its people. So Seyth Radnor turned his menslator on earth, and discovered that the man in everyone's mind was Dusty Britton of the Space Patrol.
Unfortunately, Radnor's investigation via menslator was somewhat incomplete. It failed to inform him that Dusty Britton was a TV and movie star. But the surprise awaiting the technicians from Marandis was more than equalled by the surprise awaiting the conceited TV actor, when Dusty Britton encountered Seyth Radnor in his space ship. Here is a novel of a man who found that he had to be what he had been pretending to be. This was one performance he dared not fluff for there would never be a remake.
Dusty's ardent love making on earth with a glamorous movie star and an equally passionate affair with a nurse on Marandis makes a sensational parallel in this fast moving, romantic science fiction novel.
Copyright © 1953 by George O. Smith
Reviews
There are currently no reviews for this novel. Be the first to submit one! You must be logged in to submit a review in the BookTrackr section above.
Images
No alternate cover images currently exist for this novel. Be the first to submit one!