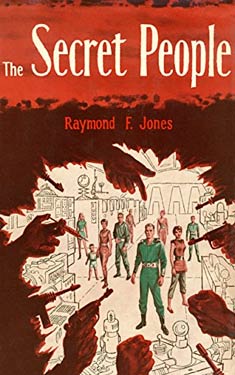 Synopsis
Also published as The Deviates.
In a world where but one man in a hundred, and eight women in a hundred, could produce children, only one science counted: Genetics. And the most respected, feared, and hated man in the world was the Chief of the Genetics Bureau, Robert Wellton. It was under his direction that gene charts were made of every citizen, and where those who dared to take the test discovered their fate. A few were Normals, who could be parents; the majority were Deviate-carriers, whose progeny would be monsters -- Uglies, as the Deviates were called.
Wellton alone knew the truth. The Genetics Program was failing, for fewer Normals were discovered every year. More and more citizens were falling back on their legal right not to be tested, not daring to learn that they might be Deviate-carriers. The whole world hungered for children, but each man and woman wanted to be the parents of the children they reared; and the fortunate few were hated by the vast majority.
But Wellton's father, who had been Genetics Chief before him, had discovered that not all Deviates were Uglies -- Nature's failures. Some were successes, improved human beings. These were telepathic and long-lived; their average intelligence level was that of the most intelligent Normals. They were what humanity needed.
Humanity could not accept them. Bitter and hate-filled, they would not believe that a Deviate could be anything but a monster; and the legal forces of the entire world were committed to the extermination of all Uglier on sight. Thus, Adam Wellton's giant plan was devised. And when he was assassinated, Robert Wellton carried it on. The plan called for the creation of a secret people -- the Children.
Born of Normal mothers, they were all Wellton's sons and daughters, bearing his improved genes. Telepathic as he was, Wellton was in mental contact with the Children from the moment of their birth, comforting and guiding them, sending them away from civilization to a hidden colony in the Canadian wilds. Here, under the direction of Wellton's first son, Barron, they built their own world. Here they waited for the mysterious being they knew only as the Father, who had promised to come to them some day and lead them to their destiny. For Wellton had never seen any of the Children -- nor had any of them seen him.
Then disaster struck, while the second generation of Children was growing up. A powerful committee, headed by a bitter man who suspected the existence of concealed Deviates, started an investigation. Wellton knew that Rossi and his associates would discover the secret, sooner or later. And there would be only one result: the Children would be hunted down and wiped out.
Thus starts a moving novel of fear and hope in a world where the only hope for humanity lay in that which all men feared.
Excerpt
No excerpt currently exists for this novel. Be the first to submit one!

Submit an Excerpt
Reviews
There are currently no reviews for this novel. Be the first to submit one! You must be logged in to submit a review in the BookTrackr section above.
Images
No alternate cover images currently exist for this novel. Be the first to submit one!