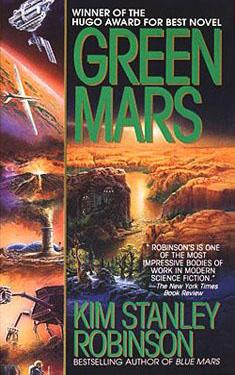 Synopsis
Thousands of years hence, many races inhabit a universe where a mind's potential is determined by its location in space, from superintelligent entities in the Transcend, to the limited minds of the Unthinking Depths, where only simple creatures and technology can function. Nobody knows what strange force partitioned space into these "regions of thought," but when the warring Straumli realm use an ancient Transcendent artifact as a weapon, they unwittingly unleash an awesome power that destroys thousands of worlds and enslaves all natural and artificial intelligence.
Fleeing the threat, a family of scientists, including two children, are taken captive by the Tines, an alien race with a harsh medieval culture, and used as pawns in a ruthless power struggle. A rescue mission, not entirely composed of humans, must rescue the children-and a secret that may save the rest of interstellar civilization.
Mars: the Green Planet. Man's dream of a new world is underway but corrupted. Red Mars is gone, ripped apart by the violent and failed revolution of 2062. The First Hundred have scattered or died, and for the moment their dreams with them. The rebels are underground, dreaming of their utopia. The transnational corporations have a dream, too. Mars can be plundered -- for the benefit of a ravaged Earth. It can be terraformed to suit Man's need -- frozen lakes form, lichen grows, the atmosphere slowly becomes breathable.
But most importantly, Mars can be owned. On Earth, countries are bought and sold by the transnationals. Why not Mars too? Man's dream is underway, but so is his greatest test. The survivors of the First Hundred -- Hiroko, Nadia, Maya and Simon among them -- know that technology alone is not enough. Trust and co-operation are need to create a new world -- but these qualities are as thin on the ground as the air they breathe.
Excerpt
No excerpt currently exists for this novel. Be the first to submit one!

Submit an Excerpt
Reviews
Images
No alternate cover images currently exist for this novel. Be the first to submit one!