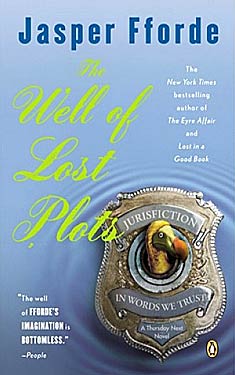 Synopsis
Jasper Fforde has done it again in this genre-bending blend of crime fiction, fantasy, and top-drawer literary entertainment. After two rollicking New York Times bestselling adventures through Western literature, resourceful literary detective Thursday Next definitely needs some downtime. And what better place for a respite than in the hidden depths of the Well of Lost Plots, where all unpublished books reside? But peace and quiet remain elusive for Thursday, who soon discovers that the Well is a veritable linguistic free-for-all, where grammasites run rampant, plot devices are hawked on the black market, and lousy books-like the one she has taken up residence in-are scrapped for salvage. To make matters worse, a murderer is stalking the personnel of Jurisfiction and it's up to Thursday to save the day. A brilliant feat of literary showmanship filled with wit, fantasy, and effervescent originality, this Ffordian tour de force is the most exciting Thursday Next adventure yet.
Excerpt
1.
The Absence of Breakfast
The Well of Lost Plots. To understand the Well you have to have an idea of the layout of the Great Library. The library is where all published fiction is stored so it can be read by the readers in the Outland; there are twenty-six floors, one for each letter of the alphabet. The library is constructed in the layout of a cross with the four corridors radiating from the center point. On all the walls, end after end, shelf after shelf, are books. Hundreds, thousands, millions of books. Hardbacks, paperbacks, leatherbound, everything. But the similarity of all these books to the copies we read back home is no more than the similarity a photograph has to its subject; these books are alive.
Beneath the Great Library are twenty-six floors of dingy yet industrious subbasements known as the Well of Lost Plots. This is where books are constructed, honed and polished in readiness for a place in the library above,if they make it that far. The failure rate is high. Unpublished books outnumber published by an estimated eight to one.
THURSDAY NEXT,
The Jurisfiction Chronicles
MAKING ONE'S HOME in an unpublished novel wasn't without its compensations. All the boring day-to-day mundanities that we conduct in the real world get in the way of narrative flow and are thus generally avoided. The car didn't need refueling, there were never any wrong numbers, there was always enough hot water, and vacuum cleaner bags came in only two sizes,upright and pull along. There were other more subtle differences, too. For instance, no one ever needed to repeat themselves in case you didn't hear, no one shared the same name, talked at the same time or had a word annoyingly "on the tip of their tongue." Best of all, the bad guy was always someone you knew of, and,Chaucer aside,there wasn't much farting. But there were some downsides. The relative absence of breakfast was the first and most notable difference to my daily timetable. Inside books, dinners are often written about and therefore feature frequently, as do lunches and afternoon tea; probably because they offer more opportunities to further the story.
Breakfast wasn't all that was missing. There was a peculiar lack of cinemas, wallpaper, toilets, colors, books, animals, underwear, smells, haircuts, and strangely enough, minor illnesses. If someone was ill in a book, it was either terminal and dramatically unpleasant or a mild head cold,there wasn't much in between.
I was able to take up residence inside fiction by virtue of a scheme entitled the Character Exchange Program. Due to a spate of bored and disgruntled bookpeople escaping from their novels and becoming what we called PageRunners, the authorities set up the scheme to allow characters a change of scenery. In any year there are close to ten thousand exchanges, few of which result in any major plot or dialogue infringements,the reader rarely suspects anything at all. Since I was from the real world and not actually a character at all, the Bellman and Miss Havisham had agreed to let me live inside the BookWorld in exchange for helping out at Jurisfiction,at least as long as my pregnancy would allow.
The choice of book for my self-enforced exile had not been arbitrary; when Miss Havisham asked me in which novel I would care to reside, I had thought long and hard. Robinson Crusoe would have been ideal considering the climate, but there was no one female to exchange with. I could have gone to Pride and Prejudice, but I wasn't wild about high collars, bonnets, corsets,and delicate manners. No, to avoid any complications and reduce the possibility of having to move, I had decided to make my home in a book of such dubious and uneven quality that publication and my subsequent enforced ejection was unlikely in the extreme. I found just such a book deep within the Well of Lost Plots amongst failed attempts at prose and half-finished epics of such dazzling ineptness that they would never see the light of day. The book was a dreary crime thriller set in Reading entitled Caversham Heights. I had planned to stay there for only a year, but it didn't work out that way. Plans with me are like De Floss novels,try as you might, you never know quite how they are going to turn out.
I read my way into Caversham Heights. The air felt warm after the wintry conditions back home, and I found myself standing on a wooden jetty at the edge of a lake. In front of me there was a large and seemingly derelict flying boat of the sort that still plied the coastal routes back home. I had flown on one myself not six months before on the trail of someone claiming to have found some unpublished Burns poetry. But that was another lifetime ago, when I was SpecOps in Swindon, the world I had temporarily left behind.
The ancient flying boat rocked gently in the breeze, tautening the mooring ropes and creaking gently, the water gently slapping against the hull. As I watched the old aircraft, wondering just how long something this decrepit could stay afloat, a well-dressed young woman stepped out of an oval-shaped door in the high- sided hull. She was carrying a suitcase. I had read the novel of Caversham Heights so I knew Mary well although she didn't know me.
"Hullo!" she shouted, trotting up and offering me a hand. "I'm Mary. You must be Thursday. My goodness! What's that?"
"A dodo. Her name's Pickwick."
Pickwick plocked and stared at Mary suspiciously.
"Really?" she replied, looking at the bird curiously. "I'm no expert of course but,I thought dodoes were extinct."
"Where I come from, they're a bit of a pest."
"Oh?" mused Mary. "I'm not sure I've heard of a book with live dodoes in it."
"I'm not a bookperson," I told her, "I'm real."
"Oh!" exclaimed Mary, opening her eyes wide. "An Outlander."
She touched me inquisitively with a slender index finger as though I might be made of glass.
"I've never seen someone from the other side before," she announced, clearly relieved to find that I wasn't going to shatter into a thousand pieces. "Tell me, is it true you have to cut your hair on a regular basis? I mean, your hair actually grows?"
"Yes",I smiled,"and my fingernails, too."
"Really?" mused Mary. "I've heard rumors about that but I thought it was just one of those Outlandish legends. I suppose you have to eat, too? To stay alive, I mean, not just when the story calls for it?"
"One of the great pleasures of life," I assured her.
I didn't think I'd tell her about real-world downsides such as tooth decay, incontinence, or old age. Mary lived in a three-year window and neither aged, died, married, had children, got sick or changed in any way. Although appearing resolute and strong-minded, she was only like this because she was written that way. For all her qualities, Mary was simply a foil to Jack Spratt, the detective in Caversham Heights, the loyal sergeant figure to whom Jack explained things so the readers knew what was going on. She was what writers called an expositional, but I'd never be as impolite to say so to her face.
"Is this where I'm going to live?" I was pointing at the shabby flying boat.
"I know what you're thinking." Mary smiled proudly. "Isn't she just the most beautiful thing ever? She's a Sunderland; built in 1943 but last flew in '68. I'm midway converting her to a houseboat, but don't feel shy if you want to help out. Just keep the bilges pumped out, and if you can run the number three engine once a month, I'd be very grateful,the start-up checklist is on the flight deck."
"Well,okay," I muttered.
"Good. I've left a precis of the story taped to the fridge and a rough idea of what you have to say, but don't worry about being word perfect; since we're not published, you can say almost anything you want,within reason, of course."
"Of course." I thought for a moment. "I'm new to the Character Exchange Program. When will I be called to do something?"
"Wyatt is the inbook exchange liaison officer; he'll let you know. Jack might seem gruff to begin with," continued Mary, "but he has a heart of gold. If he asks you to drive his Austin Allegro, make sure you depress the clutch fully before changing gear. He takes his coffee black and the love interest between myself and DC Baker is strictly unrequited, is that clear?"
"Very clear," I returned, thankful I would not have to do any love scenes.
"Good. Did they supply you with all the necessary paperwork, IDs, that sort of thing?"
I patted my pocket and she handed me a scrap of paper and a bunch of keys.
"Good. This is my footnoterphone number in case of emergencies, these are the keys to the flying boat and my BMW. If a loser named Arnold calls, tell him I hope he rots in hell. Any questions?"
"I don't think so."
She smiled as a yellow cab with TransGenre Taxis painted on the side materialized in front of us. The cabbie looked bored and Mary opened the passenger door.
"Then we're done. You'll like it here. I'll see you in about a year. So long!"
She turned to the cabbie, muttered, "Get me out of this book," and she and the car faded out, leaving me alone on the dusty track.
I sat upon a rickety wooden seat next to a tub of long-dead flowers and let Pickwick out of her bag. She ruffled her feathers indignantly and blinked in the sunlight. I looked across the lake at the sailing dinghies that were little more than brightly colored triangles that tacked backwards and forwards in the distance. Nearer to shore a pair of swans beat their wings furiously and pedaled the water in an attempt to take off, landing almost as soon as they were airborne, throwing up a long streak of spray on the calm waters. It seemed a lot of effort to go a few hundred yards.
I turned my attention to the flying boat. The layers of paint that covered and protected the riveted hull had partly peeled off to reveal the colorful livery of long-forgotten airlines beneath. The Perspex windows had clouded with age, and high in the massive wing unt...
Copyright © 2003 by Jasper Fforde
Reviews
There are currently no reviews for this novel. Be the first to submit one! You must be logged in to submit a review in the BookTrackr section above.
Images
No alternate cover images currently exist for this novel.