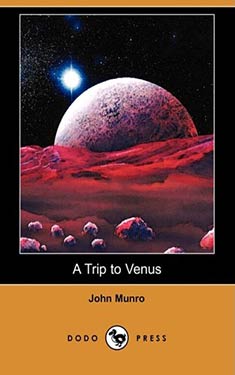 Synopsis
A Trip to Venus (1897) is an account of a journey by Spaceship - powered by a new Antigravity as a sustaining Power Source - to an idyllic Utopia on Venus, with a brief excursion to Mercury.
Excerpt
The next evening promised well, and I kept my appointment, but unfortunately a slight haze gathered in the sky and prevented us from making further observations. While hoping in vain for it to clear away, Professor Gazen and I talked over the possibility of journeying to other worlds. The gist of our argument was afterwards published in a conversation, entitled "Can we reach the other planets?" which appeared in The Day after To-morrow. It ran as follows:
I. (the writer). "Do you think we shall ever be able to leave the earth and travel through space to Mars or Venus, and the other members of the Solar System?"
G. (Checking an impulse to smile and shaking his head), "Oh, no! Never."
I. "Yet science is working miracles, or what would have been accounted miracles in ancient times."
G. "No doubt, and hence people are apt to suppose that science can do everything; but after all Nature has set bounds to her achievements."
I. "Still, we don't know what we can and what we cannot do until we try."
G. "Not always; but in this case I think we know. The celestial bodies are evidently isolated in space, and the tenants of one cannot pass to another. We are confined to our own planet."
I. "A similar objection might have been urged against the plan of Columbus."
G. "That was different. Columbus only sailed through unknown seas to a distant continent. We are free to explore every nook and cranny of the earth, but how shall we cross the immense void which parts us from another world, except on the wings of the imagination?"
Copyright © 1897 by John Munro
Reviews
There are currently no reviews for this novel. Be the first to submit one! You must be logged in to submit a review in the BookTrackr section above.
Images
No alternate cover images currently exist for this novel.