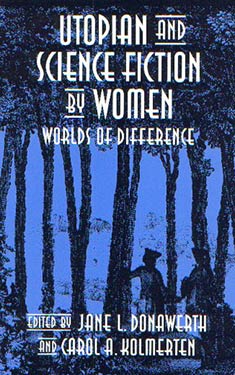 Utopian and Science Fiction by Women: Worlds of Difference
Synopsis
This collection of eleven original essays speaks to common themes and strategies in women's writing about their different worlds, from Margaret Cavendish's seventeenth-century "Blazing World of the North Pole" to the men less' islands of the French writer Scudery to the eighteenth and nineteenth-century utopias of Shelley and Gaskell, and science fiction pulps, finishing with the more contemporary feminist fictions of Le Guin, Wittig, Piercy and Mitchison.
Contents:
"There Goes the Neighborhood": Octavia Butler's Demand for Diversity in Utopias - (1994) - essay by Michell Erica Green
Consider Her Ways: The Cultural Work of Charlotte Perkins Gilman's Pragmatopian Stories, 1908-1913 - (1994) - essay by Carol Farley Kessler
Difference and Sexual Politics in Naomi Mitchison's Solution Three - (1994) - essay by Sarah LeFanu
Gaskell's Feminist Utopia: The Cranfordians and the Reign of Goodwill - (1994) - essay by Rae Rosenthal
Islands of Felicity: Women Seeing Utopia in Seventeenth-Century France - (1994) - essay by Ruth Carver Capasso
Mothers and Monsters in Sarah Robinson Scott's Millenium Hall - (1994) - essay by Linda Dunne
Science Fiction by Women in the Early Pulps, 1926-1930 - (1994) - essay by Jane L. Donawerth
Subjectivity as Feminist Utopia - (1994) - essay by Jean Pfaelzer
Texts and Contexts: American Women Envision Utopia, 1890-1920 - (1994) - essay by Carol A. Kolmerten
The Frozen Landscape in Women's Utopian and Science Fiction - (1994) - essay by Naomi Jacobs
The Subject of Utopia: Margaret Cavendish and Her Blazing-World - (1994) - essay by Lee Cullen Khanna
Foreword (Utopian and Science Fiction by Women) - (1994) - essay by Susan Gubar
Excerpt
No excerpt currently exists for this novel.
Reviews
There are currently no reviews for this novel. Be the first to submit one! You must be logged in to submit a review in the BookTrackr section above.
Images
No alternate cover images currently exist for this novel.