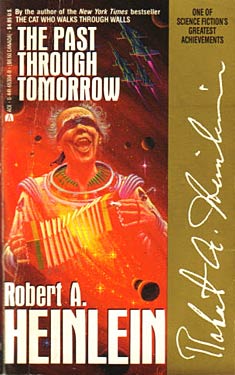 The Past Through Tomorrow
Synopsis
For the first time, all 21 stories, novellas and novels forming Heinlein's monumental Future History are collected together here in paperback. The great achievement of this meticulous architct-of-the-future's life work lies in his unique gift to a hopeful mankind---our sturggles and our history are glorified by this extension into the far future.
"Life-Line", 1939; a month before "Misfit"
"Misfit", 1939
"The Roads Must Roll", 1940
"Requiem", 1940
"'If This Goes On—'", 1940
"Coventry", 1940
"Blowups Happen", 1940
"Universe", 1941
"Methuselah's Children", 1941; extended and published as a novel, 1958
"Logic of Empire", 1941
"'—We Also Walk Dogs'", 1941
"Space Jockey", 1947
"'It's Great to Be Back!'", 1947
"The Green Hills of Earth", 1947
"Ordeal in Space", 1948
"The Long Watch", 1948
"Gentlemen, Be Seated!", 1948
"The Black Pits of Luna", 1948
"Delilah and the Space Rigger", 1949
"The Man Who Sold the Moon", 1950
"The Menace From Earth", 1957
"Searchlight", 1962
Excerpt
No excerpt currently exists for this novel.
Reviews
Images
No alternate cover images currently exist for this novel.