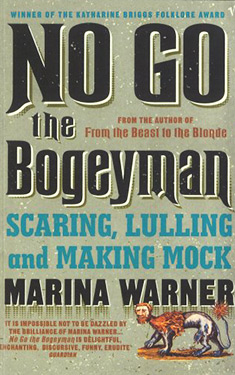 No Go the Bogeyman: Scaring, Lulling, and Making Mock
Synopsis
Finalist for the Mythopoeic Scholarship Award for Myth and Fantasy Studies
Ogres and giants, bogeymen and bugaboos embody some of our deepest fears, dominating popular fiction, from tales such as "Jack the Giant Killer" to the cannibal monster Hannibal Lecter, from the Titans of Greek mythology to the dinosaurs of Jurassic Park, from Frankenstein to Men In Black.
Following her brilliant study of fairy tales, From the Beast to the Blonde, Marina Warner's rich, enthralling new book explores the ever increasing presence of such figures of male terror, and the strategems we invent to allay the monsters we conjure up -- from horror stories to lullabies and jokes. Travelling from ogres to cradle songs, from bananas to cannibals, Warner traces the roots of our commonest anxieties, unravelling with vigorous intelligence, creative originality and relish, the myths and fears which define our sensibilites.
Illustrated with a wealth of images -- from the beautiful and the bizarre to the downright scary -- this is a tour de force of scholarship and imagination.
Table of Contents:
Preface
Prologue
Introduction
Part One - Scaring
I. "Here Comes the Bogeyman!"
Reflection: Goya: "Saturn Devouring His Child"
II. "My Father He Ate Me..."
Reflection: The Nymphaeum of the Emperor Tiberius
III. The Polyp and the Cyclops
IV. The Devil's Banquet
Reflection: The Feast of Corpus Christi, 1996: The Patum of Berga, Catalonia
V. "Hoc Est Corpus"
VI. "Now... We Can Begin to Feed"
VII. "Terrors Properly Applied"
Part Two - Lulling
Reflection: Caravaggio: "The Rest on the Flight into Egypt"
VIII. "Sing Now Mother... What Me Shall Befall"
IX. "Herod the King, in His Raging"
X. "And Thou, Oh Nightengale"
Part Three - Making Mock
Reflection: Louis Desprez: "The Chimera"
XI. "In the Genre of the Monstrous"
XII. Circe's Swine: "Wizard and Brute"
XIII. "All My Business Is My Song"
XIV. "Fee Fie Fo Fum"
XV. "Of the Paltriness of Things"
Reflection: Albert Eckhout: Eight Brazilian Portraits
XVI. "Going Bananas"
Epilogue: "Snip! Snap! Snip!"
Picture Section
Notes
Excerpt
No excerpt currently exists for this novel. Be the first to submit one!

Submit an Excerpt
Reviews
There are currently no reviews for this novel. Be the first to submit one! You must be logged in to submit a review in the BookTrackr section above.
Images
No alternate cover images currently exist for this novel. Be the first to submit one!