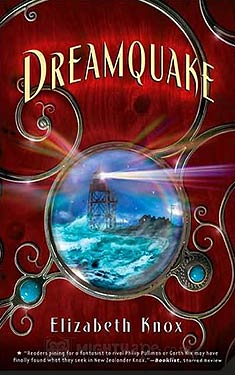 Synopsis
The dreamhunting began as a beautiful thing, when Tziga Hame discovered that he could enter the Place and share the dreams he found there with other people. But Tziga Hame has disappeared and Laura, his daughter, knows that the dreams have turned sour. The wealthy still experience sweet dreams, but the government has been using nightmares to keep the convicts obedient and content. On St. Lazarus's Eve, when elite citizens gather in the dream palace, Laura is determined to show them the truth. She plunges them into the nightmare used to control the convicts. But as she struggles to counter the government's sinister plans, a deeper mystery surfaces, a puzzle only Laura can unravel, a puzzle having to do with the very nature of the Place. What is the Place, after all? And what does it want from her?
Excerpt
The stand of trees Laura had picked as a landmark was getting closer, but only very slowly. She sighed and picked up her pace. She was hungry, but that was no excuse for dragging her feet and daydreaming.
A while later, when she'd raised a sweat and her mind was just idling, the thought that had been trailing her for days – possibly since Rose first told her about the "surplus rails" – finally caught up with her. She remembered that the Grand Patriarch had asked her about the "Depot."
Laura raised her head and squinted up the line. The "Depot" wasn't the name of a dream – it was a destination, where something was stored.
What else had the Grand Patriarch said? There was something else, a name from a rumor, because hadn't the Grand Patriarch said that most of his intelligence came from rumors?
Contentment.
Laura stopped walking when the word came into her head. She stood still, shivering and short of breath. The world darkened around her as her pupils contracted. Dread had crept up and pounced on her. And, now that she was still, she understood that her footsteps had masked a vibration.
A steely rolling was coming from the line behind her.
Laura spun to face back along the line. She saw the handcar bearing down upon her, fast. Riding on it were six rangers.
Copyright © 2007 by Elizabeth Knox
Reviews
Images
No alternate cover images currently exist for this novel.