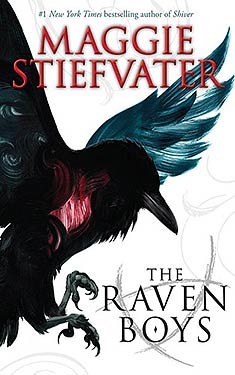 Synopsis
"There are only two reasons a non-seer would see a spirit on St. Mark's Eve," Neeve said. "Either you're his true love . . . or you killed him."
It is freezing in the churchyard, even before the dead arrive.
Every year, Blue Sargent stands next to her clairvoyant mother as the soon-to-be dead walk past. Blue herself never sees them-not until this year, when a boy emerges from the dark and speaks directly to her.
His name is Gansey, and Blue soon discovers that he is a rich student at Aglionby, the local private school. Blue has a policy of staying away from Aglionby boys. Known as Raven Boys, they can only mean trouble.
But Blue is drawn to Gansey, in a way she can't entirely explain. He has it all-family money, good looks, devoted friends-but he's looking for much more than that. He is on a quest that has encompassed three other Raven Boys.
Excerpt
Blue Sargent had forgotten how many times she'd been told that she would kill her true love.
Her family traded in predictions. These predictions tended, however, to run toward the non-specific. Things like: Something terrible will happen to you today. It might involve the number six. Or: Money is coming. Open your hand for it. Or: You have a big decision and it will not make itself.
The people who came to the little, bright blue house at 300 Fox Way didn't mind the imprecise nature of their fortunes. It became a game, a challenge, to realize the exact moment that the predictions came true. When a van carrying six people wheeled into a client's car two weeks after their psychic reading, he could nod with a sense of accomplishment and release. When a neighbor offered to buy another client's old chainsaw if they were looking for a bit of extra cash, she could recall the promise of money coming and sell it with the sense that the transaction had been foretold. Or when a third client heard his wife say this is a decision that has to be made, he could remember the same words being said by Maura Sargent over a spread of tarot cards and then leap decisively to action.
But the imprecise nature of the fortunes kept them from feeling complete. They could be dismissed as coincidences, hunches. They were a chuckle in the Wal-mart parking lot when you ran into an old friend as promised. A shiver when the number seventeen appeared in an electric bill. A realization that even if you had discovered the future, it really didn't change how you lived the present. The predictions existed in one world, and reality in another. They were truth, but they weren't all of the truth.
Copyright © 2012 by Maggie Stiefvater
Reviews
Images
No alternate cover images currently exist for this novel. Be the first to submit one!