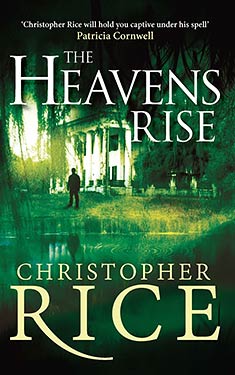 Synopsis
New York Times bestselling author Christopher Rice brilliantly conjures the shadowed terrors of the Louisiana bayou-where three friends confront a deadly, ancient evil rising to the surface-in this intense and atmospheric new supernatural thriller.
It's been a decade since the Delongpre family vanished near Bayou Rabineaux, and still no one can explain the events of that dark and sweltering night. No one except Niquette Delongpre, the survivor who ran away from the mangled stretch of guardrail on Highway 22 where the impossible occurred... and kept on running. Who left behind her best friends, Ben and Anthem, to save them from her newfound capacity for destruction... and who alone knows the source of her very bizarre-and very deadly-abilities: an isolated strip of swampland called Elysium.
An accomplished surgeon, Niquette's father dreamed of transforming the dense acreage surrounded by murky waters into a palatial compound befitting the name his beloved wife gave to it, Elysium: "the final resting place for the heroic and virtuous." Then, ten years ago, construction workers dug into a long-hidden well, one that snaked down into the deep, black waters of the Louisiana swamp and stirred something that had been there for centuries-a microscopic parasite that perverts the mind and corrupts the body.
Niquette is living proof that things done can't be undone. Nothing will put her family back together again. And nothing can save her. But as Niquette, Ben, and Anthem uncover the truth of a devastating parasite that has the potential to alter the future of humankind, Niquette grasps the most chilling truths of all: someone else has been infected too. And unlike her, this man is not content to live in the shadows. He is intent to use his newfound powers for one reason only: revenge.
Excerpt
1
ATLANTA
MAY 2013
The patient in Room 4 was named Marshall Ferriot and he couldn't dream.
Instead he experienced vivid eruptions of memory that came from the center of what he perceived to be his person. After the terrifying fall that landed him at death's half-open door when he was only seventeen, he lost all sense of his physical body.
Only rarely was he given some sense of the passage of time and, when it came, it was always accompanied by the jarring realization that his home was a dark, purgatorial place where dreams and memories, all those aspects of human beings people consider to be intangible, took on discrete wavelengths before they were stripped from those human souls they once defined.
In these moments, he could feel himself dragging against a current of souls broken down to their raw constituents—a quantum flow of hopes, nightmares and memories—and it made him feel like shark bait being towed through open sea. While he had no sense of his limbs, he knew he was still too fully formed to be worn down and passed through this pulsing refinery of the spirit.
Then, a moment of stultifying blackness would arrive, stealing the passage of time, an intermittent distortion that turned a march of ten years in the conscious world into an endless tape loop of revelations lost, rediscovered and lost again.
Sometimes he could hear the nurses. Their whispers and their shouts would come in at equal volume and, with them, a dim awareness that they spoke of him often because they were afraid of him.
But, for the most part, Marshall Ferriot's consciousness fluctuated steadily between vivid memories of the time before his fall and a terrifying awareness of his paralysis at the edge of death.
And the memories were growing stronger. They had come to include rich sensuous details that suggested an awakening of some kind might be close at hand. But first they carried him back to New Orleans, the city of his birth, and to the swamps of Tangipahoa Parish and a place called Elysium, where he'd been granted his first and last taste of a beautiful girl with cat-eyes and honey-colored hair, a girl whose very name filled the remnants of his soul with sustaining rage.
Copyright © 2013 by Christopher Rice
Reviews
There are currently no reviews for this novel. Be the first to submit one! You must be logged in to submit a review in the BookTrackr section above.
Images
No alternate cover images currently exist for this novel. Be the first to submit one!