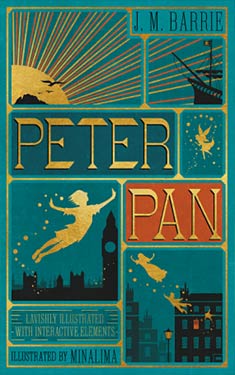 Film & Television Adaptations
Synopsis
The story of Peter Pan, is the story of a mischievous little boy who can fly, and his adventures on the island of Neverland with Wendy Darling and her brothers, the fairy Tinker Bell, the Lost Boys, and the pirate Captain Hook.
Peter makes night-time calls on the Darlings' house in Bloomsbury, listening in on Mrs. Mary Darling's bedtime stories by the open window. One night Peter is spotted and, while trying to escape, he loses his shadow. On returning to claim it, Peter wakes Mary's daughter, Wendy Darling. Wendy succeeds in re-attaching his shadow to him, and Peter learns that she knows lots of bedtime stories. He invites her to Neverland to be a mother to his gang, the Lost Boys, children who were lost in Kensington Gardens. Wendy agrees, and her brothers John and Michael go along.
Their magical flight to Neverland is followed by many adventures. The children are blown out of the air by a cannon and Wendy is nearly killed by the Lost Boy Tootles. Peter and the Lost Boys build a little house for Wendy to live in while she recuperates (a structure that, to this day, is called a Wendy House.) Soon John and Michael adopt the ways of the Lost Boys.
Peter welcomes Wendy to his underground home, and she immediately assumes the role of mother figure. Peter takes the Darlings on several adventures, the first truly dangerous one occurring at Mermaids' Lagoon. At Mermaids' Lagoon, Peter and the Lost Boys save the princess Tiger Lily and become involved in a battle with the pirates, including the evil Captain Hook. Peter is wounded when Hook claws him. He believes he will die, stranded on a rock when the tide is rising, but he views death as "an awfully big adventure". Luckily, a bird allows him to use her nest as a boat, and Peter sails home.
The original title of this work is "Peter and Wendy", published by Hodder and Staughton (UK) and Charles Scribner and Sons (US) in 1911. It is the novelization of the 1904 play "Peter Pan, or the Boy Who Would Not Grow Up". Other, distinct, works involving Peter Pan are "Peter Pan in Kensington Gardens" (Hodder and Staughton, 1906) which in turn is a slightly altered text of chapters 13 - 18 of "The Little White Bird" published in 1902.
Excerpt
No excerpt currently exists for this novel.
Reviews
There are currently no reviews for this novel. Be the first to submit one! You must be logged in to submit a review in the BookTrackr section above.
Images
No alternate cover images currently exist for this novel.