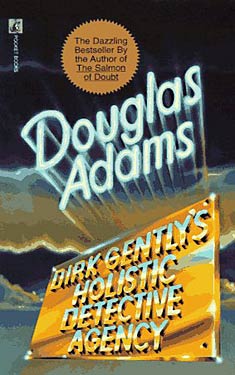 Dirk Gently's Holistic Detective Agency
Film & Television Adaptations
Synopsis
There is a long tradition of Great Detectives, and Dirk Gently does not belong to it. But his search for a missing cat uncovers a ghost, a time traveler, AND the devastating secret of humankind! Detective Gently's bill for saving the human race from extinction: NO CHARGE.
Excerpt
Svlad Cjelli. Popularly known as Dirk, though, again, "popular" was hardly right. Notorious, certainly; sought after, endlessly speculated about, those too were true. But popular? Only in the sense that a serious accident on the motorway might be popular-- everyone slows down to have a good look, but no one will get too close to the flames. Infamous was more like it. Svlad Cjelli, infamously known as Dirk. He was rounder than the average undergraduate and wore more hats. That is to say, there was just the one hat which he habitually wore, but he wore it with a passion that was rare in one so young. The hat was dark red and round, with a very flat brim, and it appeared to move as if balanced on gimbals, which ensured its perfect horizontality at all times, however its owner moved his head. As a hat it was a remarkable rather than entirely successful piece of personal decoration. It would make an elegant adornment, stylish, shapely and flattering, if the wearer were a small bedside lamp, but not otherwise. People gravitated around him, drawn in by the stories he denied about himself, but what the source of these stories might be, if not his own denials, was never entirely clear.
Copyright © 1987 by Douglas Adams
Reviews
Images
No alternate cover images currently exist for this novel.