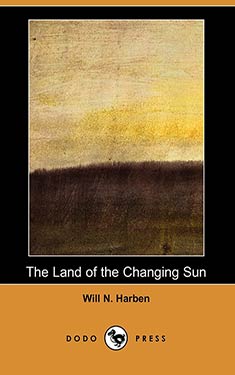 The Land of the Changing Sun
Synopsis
The Land of the Changing Sun (1894), is a Lost-World tale featuring an Underground society named Alpha, which the author seems to have conceived of as a Utopia; founded 200 years earlier under the Arctic - in caverns, however, not inside a Hollow Earth - by a group of inventive Englishmen, it is lit and heated by an artificial sun, which moves on tracks and changes colour pleasingly. A cruel Eugenic regime causes the exiling of any person deemed defective. Intruding magma threatens this world, and its inhabitants decide to evacuate Alpha in advanced submarines.
Excerpt
The balloon seemed scarcely to move, though it was slowly sinking toward the ocean of white clouds which hung between it and the earth. The two inmates of the car were insensible; their faces were bloodless, their cheeks sunken. They were both young and handsome. Harry Johnston, an American, was as dark and sallow as a Spaniard. Charles Thorndyke, an English gentle-man, had yellow hair and mustache, blue eyes and a fine intellectual face. Both were tall, athletic in build and well-proportioned. Johnston was the first to come to consciousness as the balloon sank into less rarefied atmosphere. He opened his eyes dreamily and looked curiously at the white face of his friend in his lap. Then he shook him and tried to call his name, but his lips made no sound. Drawing himself up a little with a hand on the edge of the basket, he reached for a water-jug and sprinkled Thorndyke's face. In a moment he was rewarded by seeing the eyes of the latter slowly open. "Where are we?" asked Thorndyke in a whisper.
Copyright © 1894 by Will N. Harben
Reviews
There are currently no reviews for this novel. Be the first to submit one! You must be logged in to submit a review in the BookTrackr section above.
Images
No alternate cover images currently exist for this novel.