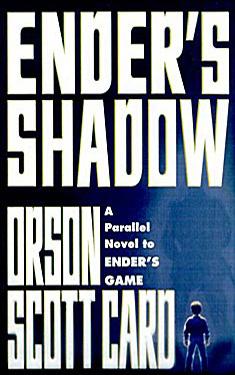 Synopsis
Orson Scott Card brings us back to the very beginning of his brilliant Ender Quartet, with a novel that allows us to reenter that world anew.
With all the power of his original creation, Card has created a parallel volume to Ender's Game, a book that expands and compliments the first, enhancing its power, illuminating its events and its powerful conclusion.
The human race is at War with the "Buggers", an insect-like alien race. The first battles went badly, and now as Earth prepares to defend itself against the imminent threat of total destruction at the hands of an inscrutable alien enemy, all focus is on the development and training of military geniuses who can fight such a war, and win.
The long distances of interstellar space have given hope to the defenders of Earth--they have time to train these future commanders up from childhood, forging then into an irresisible force in the high orbital facility called the Battle School.
Andrew "Ender" Wiggin was not the only child in the Battle School he was just the best of the best. In this new book, card tells the story of another of those precocious generals, the one they called Bean--the one who became Ender's right hand, part of his team, in the final battle against the Buggers.
Bean's past was a battle just to survive. He first appeared on the streets of Rotterdam, a tiny child with a mind leagues beyond anyone else's. He knew he could not survive through strength he used his tactical genius to gain acceptance into a children's gang, and then to help make that gang a template for success for all the others. He civilized them, and lived to grow older.
Bean's desperate struggle to live, and his success, brought him to the attention of the Battle School's recruiters, those people scouring the planet for leaders, tacticians, and generals to save Earth from the threat of alien invasion. Bean was sent into orbit, to the Battle School. And there he met Ender....
Excerpt
Poke
"You think you've found somebody, so suddenly my program gets the ax?"
"It's not about this kid that Graff found. It's about the low quality of what you've been finding."
"We knew it was long odds. But the kids I'm working with are actually fighting a war just to stay alive."
"Your kids are so malnourished that they suffer serious mental degradation before you even begin testing them. Most of them haven't formed any normal human bonds, they're so messed up they can't get through a day without finding something they can steal, break, or disrupt."
"They also represent possibility, as all children do."
"That's just the kind of sentimentality that discredits your whole project in the eyes of the I.F."
* * *
Poke kept her eyes open all the time. The younger children were supposed to be on watch, too, and sometimes they could be quite observant, but they just didn't notice all the things they needed to notice, and that meant that Poke could only depend on herself to see danger.
There was plenty of danger to watch for. The cops, for instance. They didn't show up often, but when they did, they seemed especially bent on clearing the streets of children. They would flail about them with their magnetic whips, landing cruel stinging blows on even the smallest children, haranguing them as vermin, thieves, pestilence, a plague on the fair city of Rotterdam. It was Poke's job to notice when a disturbance in the distance suggested that the cops might be running a sweep. Then she would give the alarm whistle and the little ones would rush to their hiding places till the danger was past.
But the cops didn't come by that often. The real danger was much more immediate - big kids. Poke, at age nine, was the matriarch of her little crew (not that any of them knew for sure that she was a girl), but that cut no ice with the eleven- and twelve- and thirteen-year-old boys and girls who bullied their way around the streets. The adult-size beggars and thieves and whores of the street paid no attention to the little kids except to kick them out of the way. But the older children, who were among the kicked, turned around and preyed on the younger ones. Any time Poke's crew found something to eat - especially if they located a dependable source of garbage or an easy mark for a coin or a bit of food - they had to watch jealously and hide their winnings, for the bullies liked nothing better than to take away whatever scraps of food the little ones might have. Stealing from younger children was much safer than stealing from shops or passersby. And they enjoyed it, Poke could see that. They liked how the little kids cowered and obeyed and whimpered and gave them whatever they demanded.
So when the scrawny little two-year-old took up a perch on a garbage can across the street, Poke, being observant, saw him at once. The kid was on the edge of starvation. No, the kid was starving. Thin arms and legs, joints that looked ridiculously oversized, a distended belly. And if hunger didn't kill him soon, the onset of autumn would, because his clothing was thin and there wasn't much of it even at that.
Normally she wouldn't have paid him more than passing attention. But this one had eyes. He was still looking around with intelligence. None of that stupor of the walking dead, no longer searching for food or even caring to find a comfortable place to lie while breathing their last taste of the stinking air of Rotterdam. After all, death would not be such a change for them. Everyone knew that Rotterdam was, if not the capital, then the main seaport of Hell. The only difference between Rotterdam and death was that with Rotterdam, the damnation wasn't eternal.
This little boy - what was he doing? Not looking for food. He wasn't eyeing the pedestrians. Which was just as well - there was no chance that anyone would leave anything for a child that small. Anything he might get would be taken away by any other child, so why should he bother? If he wanted to survive, he should be following older scavengers and licking food wrappers behind them, getting the last sheen of sugar or dusting of flour clinging to the packaging, whatever the first comer hadn't licked off. There was nothing for this child out here on the street, not unless he got taken in by a crew, and Poke wouldn't have him. He'd be nothing but a drain, and her kids were already having a hard enough time without adding another useless mouth.
He's going to ask, she thought. He's going to whine and beg. But that only works on the rich people. I've got my crew to think of. He's not one of them, so I don't care about him. Even if he is small. He's nothing to me.
A couple of twelve-year-old hookers who didn't usually work this strip rounded a corner, heading toward Poke's base. She gave a low whistle. The kids immediately drifted apart, staying on the street but trying not to look like a crew.
It didn't help. The hookers knew already that Poke was a crew boss, and sure enough, they caught her by the arms and slammed her against a wall and demanded their "permission" fee. Poke knew better than to claim she had nothing to share - she always tried to keep a reserve in order to placate hungry bullies. These hookers, Poke could see why they were hungry. They didn't look like what the pedophiles wanted, when they came cruising through. They were too gaunt, too old-looking. So until they grew bodies and started attracting the slightly-less-perverted trade, they had to resort to scavenging. It made Poke's blood boil, to have them steal from her and her crew, but it was smarter to pay them off. If they beat her up, she couldn't look out for her crew now, could she? So she took them to one of her stashes and came up with a little bakery bag that still had half a pastry in it.
It was stale, since she'd been holding it for a couple of days for just such an occasion, but the two hookers grabbed it, tore open the bag, and one of them bit off more than half before offering the remainder to her friend. Or rather, her former friend, for of such predatory acts are feuds born. The two of them started fighting, screaming at each other, slapping, raking at each other with clawed hands. Poke watched closely, hoping that they'd drop the remaining fragment of pastry, but no such luck. It went into the mouth of the same girl who had already eaten the first bite - and it was that first girl who won the fight too, sending the other one running for refuge.
Poke turned around, and there was the little boy right behind her. She nearly tripped over him. Angry as she was at having had to give up food to those street-whores, she gave him a knee and knocked him to the ground. "Don't stand behind people if you don't want to land on your butt," she snarled.
He simply got up and looked at her, expectant, demanding.
"No, you little bastard, you're not getting nothing from me," said Poke. "I'm not taking one bean out of the mouths of my crew, you aren't worth a bean."
Her crew was starting to reassemble, now that the bullies had passed.
"Why you give your food to them?" said the boy. "You need that food."
"Oh, excuse me!" said Poke. She raised her voice, so her crew could hear her. "I guess you ought to be the crew boss here, is that it? You being so big, you got no trouble keeping the food."
"Not me," said the boy. "I'm not worth a bean, remember?"
"Yeah, I remember. Maybe you ought to-remember and shut up."
Her crew laughed.
But the little boy didn't. "You got to get your own bully," he said.
"I don't get bullies, I get rid of them," Poke answered. She didn't like the way he kept talking, standing up to her. In a minute she was going to have to hurt him.
"You give food to bullies every day. Give that to one bully and get him to keep the others away from you."
"You think I never thought of that, stupid?" she said. "Only once he's bought, how I keep him? He won't fight for us."
"If he won't, then kill him," said the boy.
That made Poke mad, the stupid impossibility of it, the power of the idea that she knew she could never lay hands on. She gave him a knee again, and this time kicked him when he went down. "Maybe I start by killing you."
"I'm not worth a bean, remember?" said the boy. "You kill one bully, get another to fight for you, he want your food, he scared of you too."
She didn't know what to say to such a preposterous idea.
"They eating you up," said the boy. "Eating you up. So you got to kill one. Get him down, everybody as small as me. Stones crack any size head."
"You make me sick," she said.
"Cause you didn't think of it," he said.
He was flirting with death, talking to her that way. If she injured him at all, he'd be finished, he must know that.
But then, he had death living with him inside his flimsy little shirt already. Hard to see how it would matter if death came any closer.
Poke looked around at her crew. She couldn't read their faces.
"I don't need no baby telling me to kill what we can't kill."
"Little kid come up behind him, you shove, he fall over," said the boy. "Already got you some big stones, bricks. Hit him in the head. When you see brains you done."
"He no good to me dead," she said. "I want my own bully, he keep us safe, I don't want no dead one."
The boy grinned. "So now you like my idea," he said.
"Can't trust no bully," she answered.
"He watch out for you at the charity kitchen," said the boy. "You get in at the kitchen." He kept looking her in the eye, but he was talking for the others to hear. "He get you all in at the kitchen."
"Little kid get into the kitchen, the big kids, they beat him," said Sergeant. He was eight, and mostly acted like he thought he was Poke's second-in-command, though truth was she didn't have a second.
"You get you a bully, he make them go away."
"How he stop two bullies? Three bullies?" asked Sergeant.
"Like I said," the boy answered. "You push him down, he not so big. You get your rocks. You be ready. Ben't you a soldier? Don't they call you Sergeant?"
"Stop talking to him, Sarge," said Poke. "I don't know why any of us is talking to some two-year-old."
"I'm four," said the boy.
"What your name?" asked Poke.
"Nobody ever said no name for me," he said.
"You mean you so stupid you can't remember your own name?"
"Nobody ever said no name," he said again. Still he looked her in the eye, lying there on the ground, the crew around him.
"Ain't worth a bean," she said.
"Am so," he said.
"Yeah," said Sergeant. "One damn bean."
"So now you got a name," said Poke. "You go back and sit on that garbage can, I think about what you said."
"I need something to eat," said Bean.
"If I get me a bully, if what you said works, then maybe I give you something."
"I need something now," said Bean.
She knew it was true.
She reached into her pocket and took out six peanuts she had been saving. He sat up and took just one from her hand, put it in his mouth and slowly chewed.
"Take them all," she said impatiently.
He held out his little hand. It was weak. He couldn't make a fist. "Can't hold them all," he said. "Don't hold so good."
Damn. She was wasting perfectly good peanuts on a kid who was going to die anyway.
But she was going to try his idea. It was audacious, but it was the first plan she'd ever heard that offered any hope of making things better, of changing something about their miserable life without her having to put on girl clothes and going into business. And since it was his idea, the crew had to see that she treated him fair. That's how you stay crew boss, they always see you be fair.
So she kept holding her hand out while he ate all six peanuts, one at a time.
After he swallowed the last one, he looked her in the eye for another long moment, and then said, "You better be ready to kill him."
"I want him alive."
"Be ready to kill him if he ain't the right one." With that, Bean toddled back across the street to his garbage can and laboriously climbed on top again to watch.
"You ain't no four years old!" Sergeant shouted over to him.
"I'm four but I'm just little," he shouted back.
Poke hushed Sergeant up and they went looking for stones and bricks and cinderblocks. If they were going to have a little war, they'd best be armed.
* * *
Bean didn't like his new name, but it was a name, and having a name meant that somebody else knew who he was and needed something to call him, and that was a good thing. So were the six peanuts. His mouth hardly knew what to do with them. Chewing hurt.
So did watching as Poke screwed up the plan he gave her. Bean didn't choose her because she was the smartest crew boss in Rotterdam. Quite the opposite. Her crew barely survived because her judgment wasn't that good. And she was too compassionate. Didn't have the brains to make sure she got enough food herself to look well fed, so while her own crew knew she was nice and liked her, to strangers she didn't look prosperous. Didn't look good at her job.
But if she really was good at her job, she would never have listened to him. He never would have got close. Or if she did listen, and did like his idea, she would have got rid of him. That's the way it worked on the street. Nice kids died. Poke was almost too nice to stay alive. That's what Bean was counting on. But that's what he now feared.
All this time he invested in watching people while his body ate itself up, it would be wasted if she couldn't bring it off. Not that Bean hadn't wasted a lot of time himself. At first when he watched the way kids did things on the street, the way they were stealing from each other, at each other's throats, in each other's pockets, selling every part of themselves that they coulings could be better if somebody had any brains, but he didn't trust his own insight. He was sure there must be something else that he just didn't get. He struggled to learn more - of everything. To learn to read so he'd know what the signs said on trucks and stores and wagons and bins. To learn enough Dutch and enough I.F. Common to understand everything that was said around him. It didn't help that hunger constantly distracted him. He probably could have found more to eat if he hadn't spent so much time studying the people. But finally he realized: He already understood it. He had understood it from the start. There was no secret that Bean just didn't get yet because he was only little. The reason all these kids handled everything so stupidly was because they were stupid.
They were stupid and he was smart. So why was he starving to death while these kids were still alive? That was when he decided to act. That was when he picked Poke as his crew boss. And now he sat on a garbage can watching her blow it.
She chose the wrong bully, that's the first thing she did. She needed a guy who made it on size alone, intimidating people. She needed somebody big and dumb, brutal but controllable. Instead, she thinks she needs somebody small. No, stupid! Stupid! Bean wanted to scream at her as she saw her target coming, a bully who called himself Achilles after the comics hero. He was little and mean and smart and quick, but he had a gimp leg. So she thought she could take him down more easily. Stupid! The idea isn't just to take him down - you can take anybody down the first time because they won't expect it. You need somebody who will stay down.
But he said nothing. Couldn't get her mad at him. See what happens. See what Achilles is like when he's beat. She'll see - it won't work and she'll have to kill him and hide the body and try again with another bully before word gets out that there's a crew of little kids taking down bullies.
So up comes Achilles, swaggering - or maybe that was just the rolling gait that his bent leg forced on him - and Poke makes an exaggerated show of cowering and trying to get away. Bad job, thought Bean. Achilles gets it already. Something's wrong. You were supposed to act like you normally do! Stupid! So Achilles looks around a lot more. Wary. She tells him she's got something stashed - that part's normal - and she leads him into the trap in the alley. But look, he's holding back. Being careful. It isn't going to work.
But it does work, because of the gimp leg. Achilles can see the trap being sprung but he can't get away, a couple of little kids pile into the backs of his legs while Poke and Sergeant push him from the front and down he goes. Then there's a couple of bricks hitting his body and his bad leg and they're thrown hard - the little kids get it, they do their job, even if Poke is stupid - and yeah, that's good, Achilles is scared, he thinks he's going to die.
Bean was off his perch by now. Down the alley, watching, closer. Hard to see past the crowd. He pushes his way in, and the little kids - who are all bigger than he is - recognize him, they know he earned a view of this, they let him in. He stands right at Achilles' head. Poke stands above him, holding a big cinderblock, and she's talking.
"You get us into the food line at the shelter."
"Sure, right, I will, I promise."
Don't believe him. Look at his eyes, checking for weakness.
"You get more food this way, too, Achilles. You get my crew. We get enough to eat, we have more strength, we bring more to you. You need a crew. The other bullies shove you out of the way - we've seen them! - but with us, you don't got to take no shit. See how we do it? An army, that's what we are."
OK, now he was getting it. It was a good idea, and he wasn't stupid, so it made sense to him.
"If this is so smart, Poke, how come you didn't do this before now?"
She had nothing to say to that. Instead, she glanced at Bean.
Just a momentary glance, but Achilles saw it. And Bean knew what he was thinking. It was so obvious.
"Kill him," said Bean.
"Don't be stupid," said Poke. "He's in."
"That's right," said Achilles. "I'm in. It's a good idea."
"Kill him," said Bean. "If you don't kill him now, he's going to kill you."
"You let this little walking turd get away with talking shit like this?" said Achilles.
"It's your life or his," said Bean. "Kill him and take the next guy."
"The next guy won't have my bad leg," said Achilles. "The next guy won't think he needs you. I know I do. I'm in. I'm the one you want. It makes sense."
Maybe Bean's warning made her more cautious. She didn't cave in quite yet. "You won't decide later that you're embarrassed to have a bunch of little kids in your crew?"
"It's your crew, not mine," said Achilles.
Liar, thought Bean. Don't you see that he's lying to you?
"What this is to me," said Achilles, "this is my family. These are my kid brothers and sisters. I got to look after my family, don't I?"
Bean saw at once that Achilles had won. Powerful bully, and he had called these kids his sisters, his brothers. Bean could see the hunger in their eyes. Not the regular hunger, for food, but the real hunger, the deep hunger, for family, for love, for belonging. They got a little of that by being in Poke's crew. But Achilles was promising more. He had just beaten Poke's best offer. Now it was too late to kill him.
Too late, but for a moment it looked as if Poke was so stupid she was going to go ahead and kill him after all. She raised the cinderblock higher, to crash it down.
"No," said Bean. "You can't. He's family now."
She lowered the cinderblock to her waist. Slowly she turned to look at Bean. "You get the hell out of here," she said. "You no part of my crew. You get nothing here."
"No," said Achilles. "You better go ahead and kill me, you plan to treat him that way."
Oh, that sounded brave. But Bean knew Achilles wasn't brave. Just smart. He had already won. It meant nothing that he was lying there on the ground and Poke still had the cinderblock. It was his crew now. Poke was finished. It would be a while before anybody but Bean and Achilles understood that, but the test of authority was here and now, and Achilles was going to win it.
"This little kid," said Achilles, "he may not be part of your crew, but he's part of my family. You don't go telling my brother to get lost."
Poke hesitated. A moment. A moment longer.
Long enough.
Achilles sat up. He rubbed his bruises, he checked out his contusions. He looked in joking admiration to the little kids who had bricked him. "Damn, you bad!" They laughed - nervously, at first. Would he hurt them because they hurt him? "Don't worry," he said. "You showed me what you can do. We have to do this to more than a couple of bullies, you'll see. I had to know you could do it right. Good job. What's your name?"
One by one he learned their names. Learned them and remembered them, or when he missed one he'd make a big deal about it, apologize, visibly work at remembering. Fifteen minutes later, they loved him.
If he could do this, thought Bean, if he's this good at making people love him, why didn't he do it before?
Because these fools always look up for power. People above you, they never want to share power with you. Why you look to them? They give you nothing. People below you, you give them hope, you give them respect, they give you power, cause they don't think they have any, so they don't mind giving it up.
Achilles got to his feet, a little shaky, his bad leg more sore than usual. Everybody stood back, gave him some space. He could leave now, if he wanted. Get away, never come back. Or go get some more bullies, come back and punish the crew. But he stood there, then smiled, reached into his pocket, took out the most incredible thing. A bunch of raisins. A whole handful of them. They looked at his hand as if it bore the mark of a nail in the palm.
"Little brothers and sisters first," he said. "Littlest first." He looked at Bean. "You."
"Not him!" said the next littlest. "We don't even know him."
"Bean was the one wanted us to kill you," said another.
"Bean," said Achilles. "Bean, you were just looking out for my family, weren't you?"
"Yes," said Bean.
"You want a raisin?"
Bean nodded.
"You first. You the one brought us all together, OK?"
Either Achilles would kill him or he wouldn't. At this moment, all that mattered was the raisin. Bean took it. Put it in his mouth. Did not even bite down on it. Just let his saliva soak it, bringing out the flavor of it.
"You know," said Achilles, "no matter how long you hold it in your mouth, it never turns back into a grape."
"What's a grape?"
Achilles laughed at him, still not chewing. Then he gave out raisins to the other kids. Poke had never shared out so many raisins, because she had never had so many to share. But the little kids wouldn't understand that. They'd think, Poke gave us garbage, and Achilles gave us raisins. That's because they were stupid.
Copyright © 1999 by Orson Scott Card
Reviews
There are currently no reviews for this novel. Be the first to submit one! You must be logged in to submit a review in the BookTrackr section above.
Images
No alternate cover images currently exist for this novel.