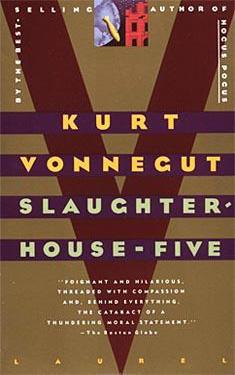 Slaughterhouse-Five: or The Children's Crusade: A Duty-Dance with Death
Film & Television Adaptations
Synopsis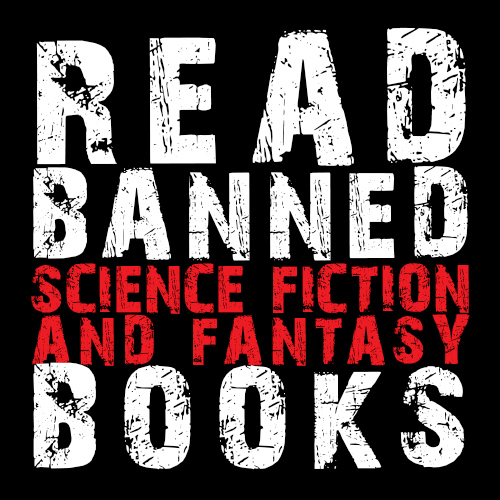 "Removed from Republic, Mo. High School (2011), but later returned and stored in a secure section of the library accessible only to parents. Teachers cannot require the book nor read it aloud in school. A Republic resident filed a complaint about the appropriateness of the book arguing that it teaches principles contrary to the Bible." (Source: "Books Challenged or Banned: 2011-2012," www.ila.org (PDF))
"Challenged in the Howell, Mich. High School (2007) along with several other books because of strong sexual content. In response to a request from the president of the Livingston Organization for Values in Education, or LOVE, the county's top law enforcement official reviewed the books to see whether laws against distribution of sexually explicit materials to minors had been broken. 'After reading the books in question, it is clear that the explicit passages illustrated a larger literary, artistic, or political message and were not included solely to appeal to the prurient interests of minors,' the Livingston county prosecutor wrote. 'Whether these materials are appropriate for minors is a decision to be made by the school board, but I find that they are not in violation of the criminal laws.'" (Source: "Books Challenged or Banned in 2007-2008," www.ala.org (PDF))
Slaughterhous-Five is one of the world's great anti-war books. Centering on the infamous fire-bombing of Dresden, Billy Pilgrim's odyssey through time reflects the mythic journey of our own fractured lives as we search for meaning in what we are afraid to know.
Unstuck in time, Billy Pilgrim, Vonnegut´s shattered survivor of the Dresden bombing, relives his life over and over again under the gaze of aliens; he comes at last to some understanding of the human comedy.
Excerpt
Chapter One
All this happened, more or less. The war parts, anyway, are pretty much true. One guy I knew really was shot in Dresden for taking a teapot that wasn't his. Another guy I knew really did threaten to have his personal enemies killed by hired gunmen after the war. And so on. I've changed all the names.
I really did go back to Dresden with Guggenheim money (God love it) in 1967. It looked a lot like Dayton, Ohio, more open spaces than Dayton has. There must be tons of human bone meal in the ground.
I went back there with an old war buddy, Bernard V. O'Hare, and we made friends with a cab driver, who took us to the slaughterhouse where we had been locked up at night as prisoners of war. His name was Gerhard Müller. He told us that he was a prisoner of the Americans for a while. We asked him how it was to live under Communism, and he said that it was terrible at first, because everybody had to work so hard, and because there wasn't much shelter or food or clothing. But things were much better now. He had a pleasant little apartment, and his daughter was getting an excellent education. His mother was incinerated in the Dresden fire-storm. So it goes.
He sent O'Hare a postcard at Christmastime, and here is what it said:
"I wish you and your family also as to your friend Merry Christmas and a happy New Year and I hope that we'll meet again in a world of peace and freedom in the taxi cab if the accident will."
I like that very much: "If the accident will."
I would hate to tell you what this lousy little book cost me in money and anxiety and time. When I got home from the Second World War twenty-three years ago, I thought it would be easy for me to write about the destruction of Dresden, since all I would have to do would be to report what I had seen. And I thought, too, that it would be a masterpiece or at least make me a lot of money, since the subject was so big.
But not many words about Dresden came from my mind then -- not enough of them to make a book, anyway. And not many words come now, either, when I have become an old fart with his memories and his Pall Malls, with his sons full grown.
I think of how useless the Dresden part of my memory has been, and yet how tempting Dresden has been to write about, and I am reminded of the famous limerick:
There was a young man from Stamboul, Who soliloquized thus to his tool: "You took all my wealth And you ruined my health, And now you won't pee, you old fool."
And I'm reminded, too, of the song that goes:
My name is Yon Yonson, I work in Wisconsin, I work in a lumbermill there. The people I meet when I walk down the street, They say, "What's your name?" And I say, My name is Yon Yonson, I work in Wisconsin..."
And so on to infinity.
Over the years, people I've met have often asked me what I'm working on, and I've usually replied that the main thing was a book about Dresden.
I said that to Harrison Starr, the movie-maker, one time, and he raised his eyebrows and inquired, "Is it an anti-war book?"
"Yes," I said. "I guess."
"You know what I say to people when I hear they're writing anti-war books?"
"No. What do you say, Harrison Starr?"
"I say, 'Why don't you write an anti-glacier book instead?' "
What he meant, of course, was that there would always be wars, that they were as easy to stop as glaciers. I believe that, too.
And even if wars didn't keep coming like glaciers, there would still be plain old death.
When I was somewhat younger, working on my famous Dresden book, I asked an old war buddy named Bernard V. O'Hare if I could come to see him. He was a district attorney in Pennsylvania. I was a writer on Cape Cod. We had been privates in the war, infantry scouts. We had never expected to make any money after the war, but we were doing quite well.
I had the Bell Telephone Company find him for me. They are wonderful that way. I have this disease late at night sometimes, involving alcohol and the telephone. I get drunk, and I drive my wife away with a breath like mustard gas and roses. And then, speaking gravely and elegantly into the telephone, I ask the telephone operators to connect me with this friend or that one, from whom I have not heard in years.
I got O'Hare on the line in this way. He is short and I am tall. We were Mutt and Jeff in the war. We were captured together in the war. I told him who I was on the telephone. He had no trouble believing it. He was up. He was reading. Everybody else in his house was asleep.
"Listen--" I said, "I'm writing this book about Dresden. I'd like some help remembering stuff. I wonder if I could come down and see you, and we could drink and talk and remember."
He was unenthusiastic. He said he couldn't remember much. He told me, though, to come ahead.
"I think the climax of the book will be the execution of poor old Edgar Derby," I said. "The irony is so great. A whole city gets burned down, and thousands and thousands of people are killed. And then this one American foot soldier is arrested in the ruins for taking a teapot. And he's given a regular trial, and then he's shot by a firing squad."
"Um," said O'Hare.
"Don't you think that's really where the climax should come?"
"I don't know anything about it," he said. "That's your trade, not mine."
As a trafficker in climaxes and thrills and characterization and wonderful dialogue and suspense and confrontations, I had outlined the Dresden story many times. The best outline I ever made, or anyway the prettiest one, was on the back of a roll of wallpaper.
I used my daughter's crayons, a different color for each main character. One end of the wallpaper was the beginning of the story, and the other end was the end, and then there was all that middle part, which was the middle. And the blue line met the red line and then the yellow line, and the yellow line stopped because the character represented by the yellow line was dead. And so on. The destruction of Dresden was represented by a vertical band of orange cross-hatching, and all the lines that were still alive passed through it, came out the other side.
The end, where all the lines stopped, was a beetfield on the Elbe, outside of Halle. The rain was coming down. The war in Europe had been over for a couple of weeks. We were formed in ranks, with Russian soldiers guarding us -- Englishmen, Americans, Dutchmen, Belgians, Frenchmen, Canadians, South Africans, New Zealanders, Australians, thousands of us about to stop being prisoners of war.
And on the other side of the field were thousands of Russians and Poles and Yugoslavians and so on guarded by American soldiers. An exchange was made there in the rain -- one for one. O'Hare and I climbed into the back of an American truck with a lot of others. O'Hare didn't have any souvenirs. Almost everybody else did. I had a ceremonial Luftwaffe saber, still do. The rabid little American I call Paul Lazzaro in this book had about a quart of diamonds and emeralds and rubies and so on. He had taken these from dead people in the cellars of Dresden. So it goes.
An idiotic Englishman, who had lost all his teeth somewhere, had his souvenir in a canvas bag. The bag was resting on my insteps. He would peek into the bag every now and then, and he would roll his eyes and swivel his scrawny neck, trying to catch people looking covetously at his bag. And he would bounce the bag on my insteps.
I thought this bouncing was accidental. But I was mistaken. He had to show somebody what was in the bag, and he had decided he could trust me. He caught my eye, winked, opened the bag. There was a plaster model of the Eiffel Tower in there. It was painted gold. It had a clock in it.
"There's a smashin' thing," he said.
And we were flown to a rest camp in France, where we were fed chocolate malted milkshakes and other rich foods until we were all covered with baby fat. Then we were sent home, and I married a pretty girl who was covered with baby fat, too.
And we had babies.
And they're all grown up now, and I'm an old fart with his memories and his Pall Malls. My name is Yon Yonson, I work in Wisconsin, I work in a lumbermill there.
Sometimes I try to call up old girl friends on the telephone late at night, after my wife has gone to bed. "Operator, I wonder if you could give me the number of a Mrs. So-and-So. I think she lives at such-and-such."
"I'm sorry, sir. There is no such listing."
"Thanks, Operator. Thanks just the same."
And I let the dog out, or I let him in, and we talk some. I let him know I like him, and he lets me know he likes me. He doesn't mind the smell of mustard gas and roses.
"You're all right, Sandy," I'll say to the dog. "You know that, Sandy? You're O.K."
Sometimes I'll turn on the radio and listen to a talk program from Boston or New York. I can't stand recorded music if I've been drinking a good deal.
Sooner or later I go to bed, and my wife asks me what time it is. She always has to know the time. Sometimes I don't know, and I say, "Search me."
I think about my education sometimes. I went to the University of Chicago for a while after the Second World War. I was a student in the Department of Anthropology. At that time, they were teaching that there was absolutely no difference between anybody. They may be teaching that still.
Another thing they taught was that nobody was ridiculous or bad or disgusting. Shortly before my father died, he said to me, "You know -- you never wrote a story with a villain in it."
I told him that was one of the things I learned in college after the war.
Copyright © 1969 by Kurt Vonnegut, Jr.
Reviews
Images
No alternate cover images currently exist for this novel.