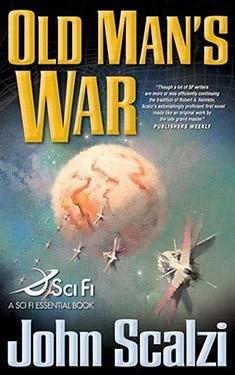 Synopsis
John Perry did two things on his 75th birthday. First he visited his wife's grave. Then he joined the army.

The good news is that humanity finally made it into interstellar space. The bad news is that planets fit to live on are scarce-and aliens willing to fight for them are common. The universe, it turns out, is a hostile place.

So: we fight. To defend Earth (a target for our new enemies, should we let them get close enough) and to stake our own claim to planetary real estate. Far from Earth, the war has gone on for decades: brutal, bloody, unyielding.

Earth itself is a backwater. The bulk of humanity's resources are in the hands of the Colonial Defense Force, which shields the home planet from too much knowledge of the situation. What's known to everybody is that when you reach retirement age, you can join the CDF. They don't want young people they want people who carry the knowledge and skills of decades of living. You'll be taken off Earth and never allowed to return. You'll serve your time at the front. And if you survive, you'll be given a generous homestead stake of your own, on one of our hard-won colony planets.

John Perry is taking that deal. He has only the vaguest idea what to expect. Because the actual fight, light-years from home, is far, far harder than he can imagine-and what he will become is far stranger.

Excerpt
"In this room right now are 1,022 recruits," Lt. Colonel Higgee said. "Two years from today, 400 of you will be dead."

Higgee stood in the front of the theater, again. This time, he had a backdrop: Beta Pyxis III floated behind him, a massive marble streaked with blue, white, green and brown

"In the third year," he continued, "another 100 of you will die. Another 150 in years four and five. After ten years -- and yes, recruits, you will most likely be required to serve a full ten years -- 750 of you have been killed in the line of duty. Three quarters of you, gone. These have been the survival statistics -- not just for the last ten or twenty years, but for the over two hundred years the Colonial Defense Forces have been active."

There was dead silence.

"I know what you're thinking right now, because I was thinking it when I was in your place," Lt. Colonel Higgee said. "You're thinking -- what the hell am I doing here? This guy is telling me I'm going to be dead in ten years! But remember that back home, you most likely would have been dead in ten years, too -- frail and old, dying a useless death. You may die in the Colonial Defense Forces. You probably will die in the Colonial Defense Forces. But your death will not be a useless one. You'll have died to keep humanity alive in our universe."
Copyright © 2004 by John Scalzi
Reviews
Images
No alternate cover images currently exist for this novel.