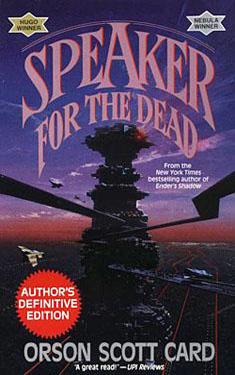 Synopsis
In the aftermath of his terrible war, Ender Wiggin disappeared, and a powerful voice arose: The Speaker for the Dead, who told the true story of the Bugger War.
Now, long years later, a second alien race has been discovered, but again the aliens' ways are strange and frightening... again, humans die. And it is only the Speaker for the Dead, who is also Ender Wiggin the Xenocide, who has the courage to confront the mystery... and the truth.
Excerpt
1
PIPO
Since we are not yet fully comfortable with the idea that people from the next village are as human as ourselves, it is presumptuous in the extreme to suppose we could ever look at sociable, tool-making creatures who arose from other evolutionary paths and see not beasts but brothers, not rivals but fellow pilgrims journeying to the shrine of intelligence.
Yet that is what I see, or yearn to see. The difference between raman and varelse is not in the creature judged, but in the creature judging. When we declare an alien species to be raman, it does not mean that they have passed a threshold of moral maturity. It means that we have.
—Demosthenes, Letter to the Framlings
Rooter was at once the most difficult and the most helpful of the pequeninos. He was always there whenever Pipo visited their clearing, and did his best to answer the questions Pipo was forbidden by law to come right out and ask. Pipo depended on him—too much, probably—yet though Rooter clowned and played like the irresponsible youngling that he was, he also watched, probed, tested. Pipo always had to beware of the traps that Rooter set for him.
A moment ago Rooter had been shimmying up trees, gripping the bark with only the horny pads on his ankles and inside his thighs. In his hands he carried two sticks—Father Sticks, they were called—which he beat against the tree in a compelling, arhythmic pattern as he climbed.
The noise brought Mandachuva out of the log house. He called to Rooter in the Males' Language, and then in Portuguese. "P'ra baixo, bicho!" Several piggies nearby, hearing his Portuguese wordplay, expressed their appreciation by rubbing their thighs together sharply. It made a hissing noise, and Mandachuva took a little hop in the air in delight at their applause.
Rooter, in the meantime, bent over backward until it seemed certain he would fall. Then he flipped off with his hands, did a somersault in the air, and landed on his legs, hopping a few times but not stumbling.
"So now you're an acrobat," said Pipo.
Rooter swaggered over to him. It was his way of imitating humans. It was all the more effective as ridicule because his flattened upturned snout looked decidedly porcine. No wonder that offworlders called them "piggies." The earliest visitors to this world had started calling them that in their first reports back in '86, and by the time Lusitania Colony was founded in 1925, the name was indelible. The xenologers scattered among the Hundred Worlds wrote of them as "Lusitanian Aborigines," though Pipo knew perfectly well that this was merely a matter of professional dignity; except in scholarly papers, xenologers no doubt called them piggies, too. As for Pipo, he usually called them pequeninos, and they seemed not to object, for now they called themselves "Little Ones." Still, dignity or not, there was no denying it. At moments like this, Rooter looked like a hog on its hind legs.
"Acrobat," Rooter said, trying out the new word. "What I did? You have a word for people who do that? So there are people who do that as their work?"
Pipo sighed silently, even as he froze his smile in place. The law strictly forbade him to share information about human society, lest it contaminate piggy culture. Yet Rooter played a constant game of squeezing the last drop of implication out of everything Pipo said. This time, though, Pipo had no one to blame but himself, letting out a silly remark that opened unnecessary windows onto human life. Now and then he got so comfortable among the pequeninos that he spoke naturally. Always a danger. I'm not good at this constant game of taking information while trying to give nothing in return. Libo, my close-mouthed son, already he's better at discretion than I am, and he's only been apprenticed to me—how long since he turned thirteen?—four months.
"I wish I had pads on my legs like yours," said Pipo. "The bark on that tree would rip my skin to shreds."
"That would cause us all to be ashamed." Rooter held still in the expectant posture that Pipo thought of as their way of showing mild anxiety, or perhaps a nonverbal warning to other pequeninos to be cautious. It might also have been a sign of extreme fear, but as far as Pipo knew he had never seen a pequenino show extreme fear.
In any event, Pipo spoke quickly to calm him. "Don't worry, I'm too old and soft to climb trees like that. I'll leave it to you younglings."
And it worked; Rooter's body at once became mobile again. "I like to climb trees. I can see everything." Rooter squatted in front of Pipo and leaned his face in close. "Will you bring the beast that runs over the grass without touching the ground? The others don't believe me when I say I saw such a thing."
Another trap. What, Pipo, xenologer, will you humiliate this individual of the community you're studying? Or will you adhere to the rigid law set up by Starways Congress to govern this encounter? There were few precedents. The only other intelligent aliens that humankind had encountered were the buggers, three thousand years ago, and at the end of it the buggers were all dead. This time Starways Congress was making sure that if humanity erred, their errors would be in the opposite direction. Minimal information, minimal contact.
Rooter recognized Pipo's hesitation, his careful silence.
"You never tell us anything," said Rooter. "You watch us and study us, but you never let us past your fence and into your village to watch you and study you."
Pipo answered as honestly as he could, but it was more important to be careful than to be honest. "If you learn so little and we learn so much, why is it that you speak both Stark and Portuguese while I'm still struggling with your language?"
"We're smarter." Then Rooter leaned back and spun around on his buttocks so his back was toward Pipo. "Go back behind your fence," he said.
Pipo stood at once. Not too far away, Libo was with three pequeninos, trying to learn how they wove dried merdona vines into thatch. He saw Pipo and in a moment was with his father, ready to go. Pipo led him off without a word; since the pequeninos were so fluent in human languages, they never discussed what they had learned until they were inside the gate.
It took a half hour to get home, and it was raining heavily when they passed through the gate and walked along the face of the hill to the Zenador's Station. Zenador? Pipo thought of the word as he looked at the small sign above the door. On it the word Xenologer was written in Stark. That is what I am, I suppose, thought Pipo, at least to the offworlders. But the Portuguese title Zenador was so much easier to say that on Lusitania hardly anyone said xenologer, even when speaking Stark. That is how languages change, thought Pipo. If it weren't for the ansible, providing instantaneous communication among the Hundred Worlds, we could not possibly maintain a common language. Interstellar travel is far too rare and slow. Stark would splinter into ten thousand dialects within a century. It might be interesting to have the computers run a projection of linguistic changes on Lusitania, if Stark were allowed to decay and absorb Portuguese—or vice-versa.
"Father," said Libo.
Only then did Pipo notice that he had stopped ten meters away from the station. Tangents. The best parts of my intellectual life are tangential, in areas outside my expertise. I suppose because within my area of expertise the regulations they have placed upon me make it impossible to know or understand anything. The science of xenology insists on more mysteries than Mother Church.
His handprint was enough to unlock the door. Pipo knew how the evening would unfold even as he stepped inside to begin. It would take several hours of work at the terminals for them both to report what they had done during today's encounter. Pipo would then read over Libo's notes, and Libo would read Pipo's, and when they were satisfied, Pipo would write up a brief summary and then let the computers take it from there, filing the notes and also transmitting them instantly, by ansible, to the xenologers in the rest of the Hundred Worlds. More than a thousand scientists whose whole career is studying the one alien race we know, and except for what little the satellites can discover about this arboreal species, all the information my colleagues have is what Libo and I send them. This is definitely minimal intervention.
But when Pipo got inside the station, he saw at once that it would not be an evening of steady but relaxing work. Dona Cristã was there, dressed in her monastic robes. Was it one of the younger children, in trouble at school?
"No, no," said Dona Cristã. "All your children are doing very well, except this one, who I think is far too young to be out of school and working here, even as an apprentice."
Libo said nothing. A wise decision, thought Pipo. Dona Cristã was a brilliant and engaging, perhaps even beautiful, young woman, but she was first and foremost a monk of the order of the Filhos da Mente de Cristo, Children of the Mind of Christ, and she was not beautiful to behold when she was angry at ignorance and stupidity. It was amazing the number of quite intelligent people whose ignorance and stupidity had melted somewhat in the fire of her scorn. Silence, Libo, it's a policy that will do you good.
"I'm not here about any child of yours at all," said Dona Cristã. "I'm here about Novinha."
Dona Cristã did not have to mention a last name; everybody knew Novinha. The terrible Descolada had...
Copyright © 1986 by Orson Scott Card
Reviews
Images
No alternate cover images currently exist for this novel.